On October 6, 1993, Michael Jordan, an American former professional basketball player and currently the owner of the Charlotte Hornets of the NBA, announced his first retirement from the NBA and left everyone in a shocking state. Michael Jordan was incredibly talented and one of the best players in the league. In 1991, he won his first NBA championship with the Chicago Bulls and secured a "three-peat " with his two more straight achievements in the years 1992 and 1993. After taking his first retirement in the year 1993, he started his new career in the field of Minor League Baseball, Jordan has stated this decision was made to pursue the dream of his late father, who had always wanted his son to go for a baseball game. But eventually, he returned to the Chicago bulls in march 1995 and won three more championships in 1996, 1997, and 1998, securing a second "three-peat".
Michael Jordan's retirement from basketball left everyone in a doubtful state for very obvious reasons. Why would someone who is known for his never-ending competition spirit, brilliant performance and with a desire to achieve his dreams suddenly retire at the age of 30 and especially when he was at the peak of his professional career? Let's look at the facts.
His Involvement in Gambling
In 1992, after winning the second NBA championship, Jordan was called to testify in the criminal trial of James Bouler to give an explanation for why Bouler, a convicted drug dealer, owned Jordan-signed personal check for $57,000. First, Jordan claimed it was a business loan, but under oath, he confessed that it was a payment for on gambling losses for a single weekend.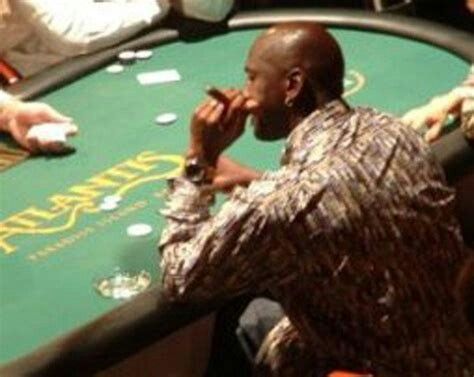 Then, in early 1993, Richard Equinas, a businessman from San Diego revealed in his book Michael and Me: Our Gambling Addiction…My Cry for Help that he had won over $900,000 from Jordan in golf betting.
Also around the same time, Jordan was spotted gambling around 2:30 am in Atlantic City casino, the night before Eastern Conference finals game. The trial of James Bouler forced commissioner Stern to pass a reproof. After this incident, the NBA launched an investigation into Jordan gambling activities to check whether he broke any league rules, and just months after these investigations started, Jordan surprised the world with his sudden retirement.
Michael Jordan Retirement day-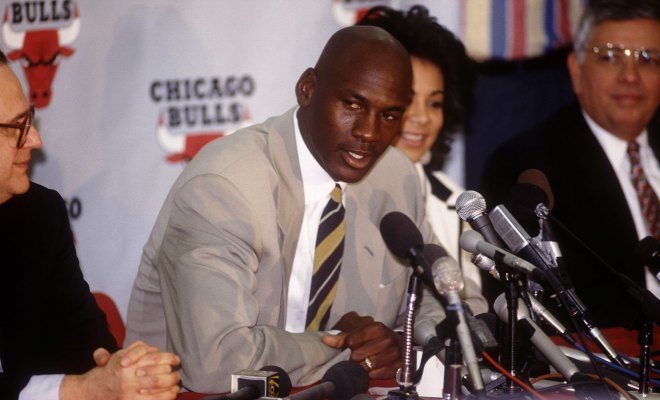 At the press conference when he was asked by the media if he would ever return he answered, " Five years down the road if the urge comes back if the Bulls will have me, if David Stern lets me back in the league, I may come back."
The word "Stern" in his answer leads to the biggest conspiracy theory involving NBA commissioner David Stern, which says that Stern gave Jordan a secret suspension of 18 months for his questionable gambling activities, to protect league reputation and Jordan. It was believed that James Jordan, the father of Michael Jordan, was murdered to take the revenge for MJ's unpaid gambling debt and that his suspension was a shield to protect both Michael and the league's reputation. A few days later of Jordan's first retirement, the league dropped the investigation stating that Jordan did nothing wrong. He may be or maybe not retired all of a sudden to create a distraction so that he wouldn't face a suspension and save his name.
Also, in the book by Armen Keteyian – "Money Players Days and Nights Inside the New NBA", he expressed that in 1993, the league had an interview with Richard Equinas when the investigation on Jordan's gambling going on. It is written that in March 1992, he overheard Jordan's conversation on a call with an unknown person. He heard Jordan talking about a betting line, "So you say the line is seven points." The game Jordan was talking about isn't known, but the allegation is extremely serious as that means if Jordan was indeed involved in betting on sports, he was violating the sport's rule for all professional athletes, as that is against the moral of the game.
It is hard to believe that a player with such a great talent would retire at the height of his career to supposedly play baseball when he knew he wasn't that good and also because he said he was too tired because of the past championship runs and 1992 Olympics. Michael Jordan was the best player in the entire league and he wanted to be the best ever, so I don't believe he would have retired on his own.
What do you guys think? Do you think he was secretly suspended or retired on his own? Share your views in the comment section and read more conspiracy stories involving Flight 371 and more.