That last text message you sent out to one of your friends, family or loved ones could it be your last? As any day can be the last, any message can be the last one too, be careful what you wish for, here a list of 10 chilling messages sent moments before death.
10. Jessica Redfield — The movie doesn't start in 20 minutes.
Jessica Redfield was an avid moviegoer who only anticipated the best when she attended the midnight viewing of Batman: Dark Knight Rises, expressing her excitement Jessica took to tweeter pleading for friends to join her as the movie was going to start in only 20 minutes.
It was just minutes before the movie was about to start when things took an expected turn, an unknown masked man ran into the theater setting off tear gas before firing at the audience with multiple weapons. Unable to reach out for help Jessica was shot six times taking shots to her chest and head, killing her instantly.
Police apprehended the man who took Jessica's life along with the lives of 11 other audience members and identified the mass shooter as James Holmes. An eerie reminder of her final conversation lies documented in an account that will never post again.
9. Good-Bye Mama
There are few things more emotionally painful than a final goodbye. This was the case with Jeff Hunter who lived with his father and stepmother in Arkansas, a state prone to tornadoes.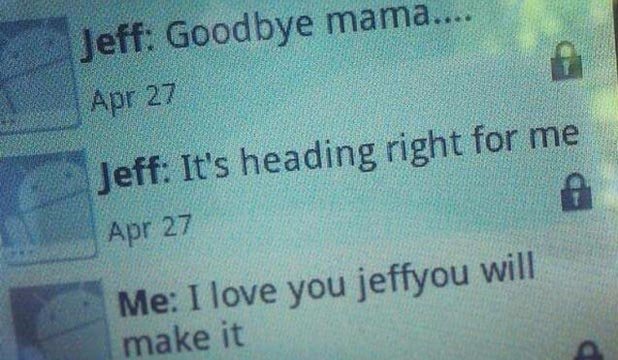 It was one afternoon when the state declared a tornado warning for a massive EF four twister, reports on the news declare casualties as the tornado rapidly made its way towards his town, preparing for the worst Jeff grabbed his phone and began texting his mother who was around 20 miles away from home at the time, as he hid in his bathroom. It didn't take long before the ground around him started to shake Jeff texted his final words to his mother. Goodbyes to his mother seconds before the tornado devastated his home.
Jeff's body was found gravely wounded lying within the rubble and he died as a result of his injuries.
8. What's your plan for valentine
The day which supposed to stand for love above all other things. This was something that supermodel Reeva Steenkamp had in mind on valentine's day. She had just gone into a new relationship with her boyfriend Oscar Pistorius and was ecstatic to express her love for him for the first time.
Reva took to twitter and asked: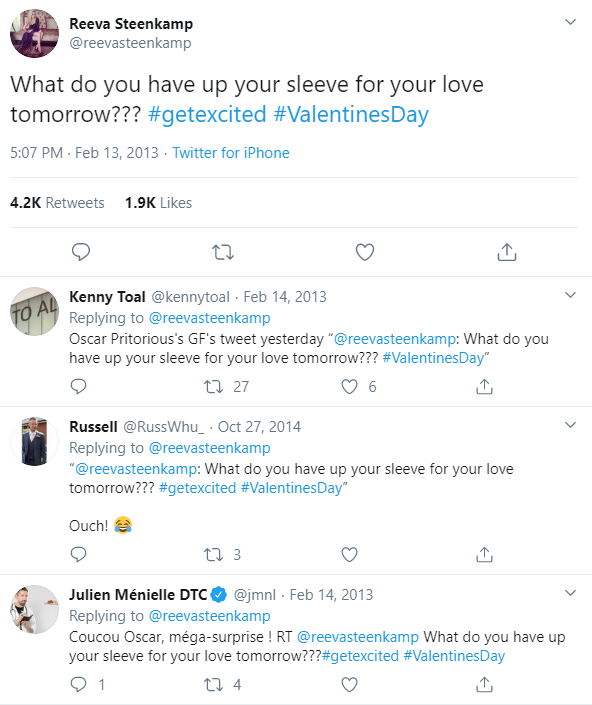 As planned Reeva drove to her boyfriend's house to meet with him where he shot her multiple times until she bled to death in his bathroom. When questioned by police his assumption was that a dangerous intruder made it into the house and ultimately he felt the need to protect himself from harm.
Oscar pled not guilty to the murder of Riva, unknowingly her final post on social media represented anything but the love and happiness she as expecting on that fateful day.
7. If the plane disappears this is what it looks like.
Just before boarding Malaysian flight 17, Cor pan decided to snap a picture of his plane, joking around he referenced his image to the previous Malaysian flight that had gone missing shortly before with the caption:
"If the plane disappears, this is what it looks like."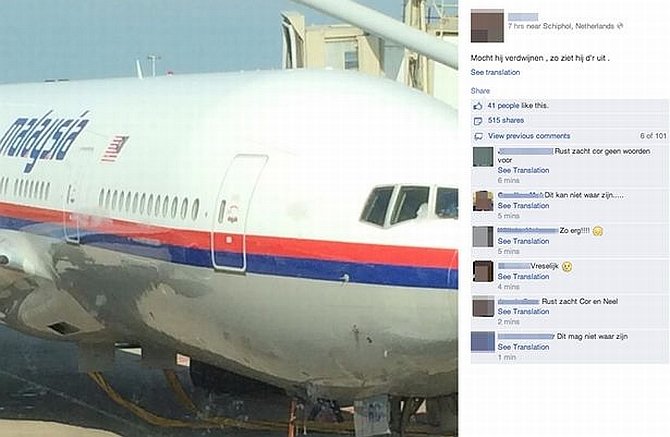 Hours after boarding the flight, news headlines declared the disappearance of flight 17, this would be the last image to ever surface on social media just before his flight was shot down on the Russia-Ukraine border, killing all 298 passengers on board.
6. If you're gonna go out with a bang might as well do it right.
Struggling to cope with his family life Mike McNeill was a recovering alcoholic who was in the middle of a divorce. It became apparent to friends and family that there was an abundance of propane tanks and gasoline in the family garage. Avoiding any form of suspicion, he insisted that they were being saved for the winter season.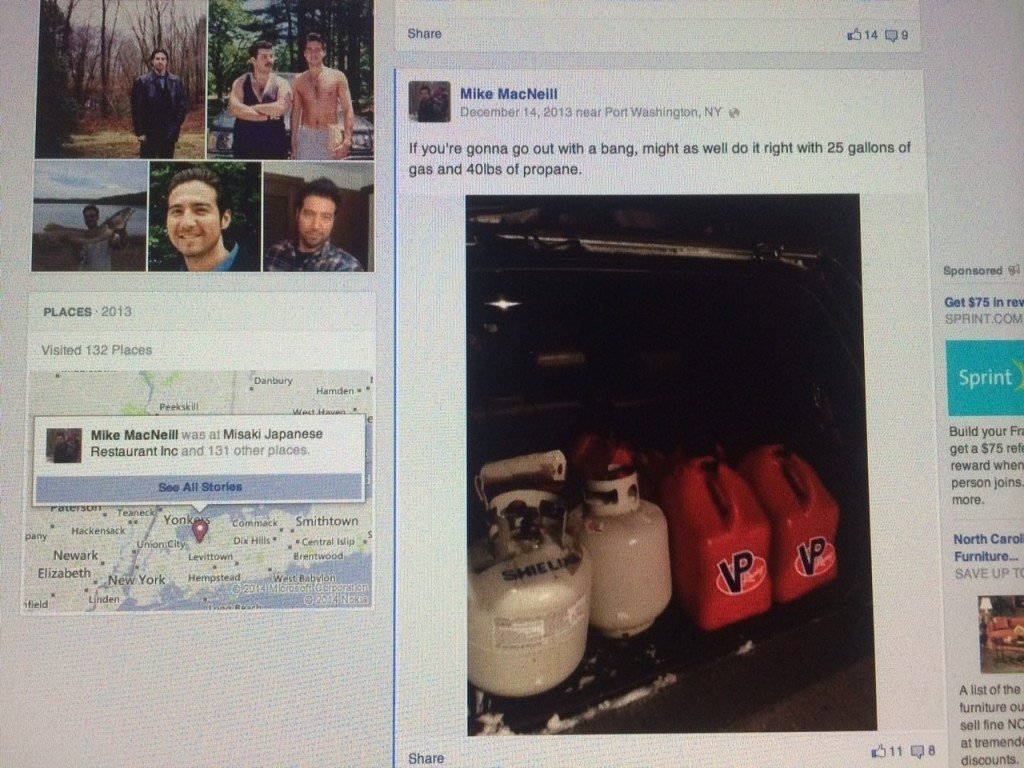 It wasn't long after when he took to Facebook to post what would be his final image, captioned:
"If you're gonna go out with a bang might as well do it right with 25 gallons of gas and 40 lbs of propane"
The same evening police responded to a domestic dispute between Mike and his wife. When the wife and his daughter went out, the family's two-story house was engulfed by a massive explosion so powerful that it shook homes within a mile radius.
After hours of the investigation, police uncovered the charred remains belonging to Mike ruling the explosion of suicide.
5. Escort Gone Wrong
It's pretty easy on our minds to pick up on a dangerous situation whether we listen to it or not is another story entirely. This was the case for Sheri Carter working as an escort, it was common to work late nights from her home in Boynton Beach.
For Sheri, it was a regular work night as she texted her boyfriend until she noticed her client exhibiting unusual behavior as he stood in her bathroom she warned her boyfriend fearing what her client's next move would be.
His exact behavior is still unknown and it's believed Sherry wanted to call off the sexual agreement within minutes it became apparent that something bad had occurred to Sherry after she was unresponsive through her text.
"Dont let him sniff my deodorant..lol.." replied Mark.
"No really u have no clue…." These were the last words that Carter ever wrote.
Once police arrived at the scene they discovered she'd been handcuffed and fatally shot. Retired officer Jimmy Howe was apprehended shortly after and identified as her killer. Jimmy ended up being convicted of the murder and sentenced to life in prison.
4. Don't judge me had no choice
Unfortunately, no restraining order could ever avoid tragic events that were committed by the hands of Merrick McCoy. His ex-girlfriend described him as a jealous and possessive man. Violent disputes were common between the two resulting in a restraining order that kept their toddler safe from his erratic behavior.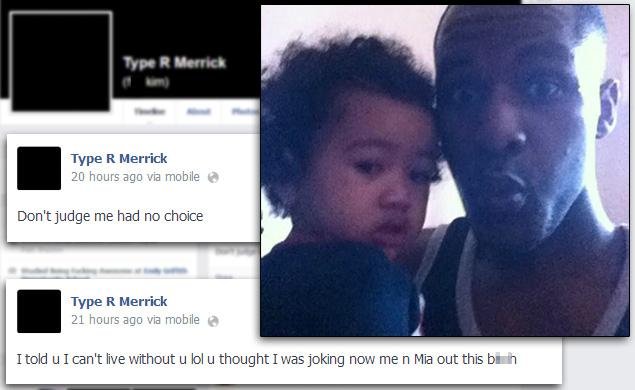 It was one fateful morning when Kim woke up to her ex-boyfriend standing over her with a gun pointed at her head, frantic she ran to the neighbors for help, this gave Merrick enough time to take their daughter from her crib before deciding to take one last picture with her.
He posted the image on Facebook directing his final words to Kim stating "I told you I can't live without you… Don't judge me had no choice."
Moments after Merric uploaded the post on Facebook, he shot his daughter and then turned the gun on himself.
3. Wish Came True
Be careful what you wish for because it just might come true. Tionna was an artist and blogger who had big dreams of being known in the media. To many, she seemed like an extroverted and happy girl, however, this was anything but the case.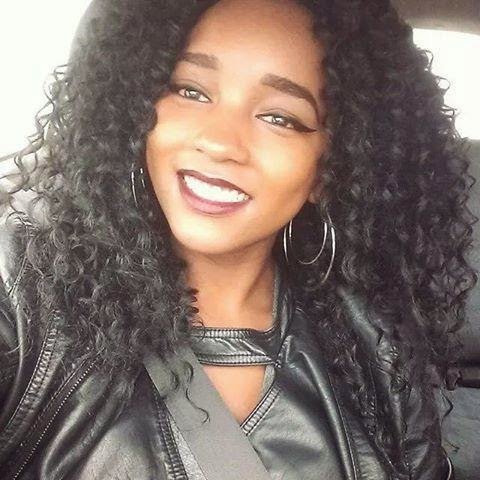 At a young age, her mother and father passed away, leaving her an orphan. In recent years her blog became a place where she could write her dark trouble about life. A place where she could express her misery and sadness wishing she could unite with both of her parents.
She became a writer on Instagram, which seemed to be cryptic messages revolving around suicide and praying for a specific wish to come true.
One day when she was driving with a friend and decided to post a picture of herself with a caption
"Sometimes things don't go your way and you have to accept that. You can't control everything in your life, but you have to accept it and move on."
Minutes after posting her picture both were involved in a car accident resulting in Tionna's body ejecting out of the passenger's seat, killing her instantly. The only wish she desired so badly had come true.
2. He's in the house
Simon Inge was an immigrant living in a brand-new city with his older sister, feeling lonely and discouraged he began vlogging online. He used his vlog as a form of self-improvement, Simon recorded his daily routines, overtimes things seemed to be turning a corner when his life was tragically cut short by his sister's ex-boyfriend.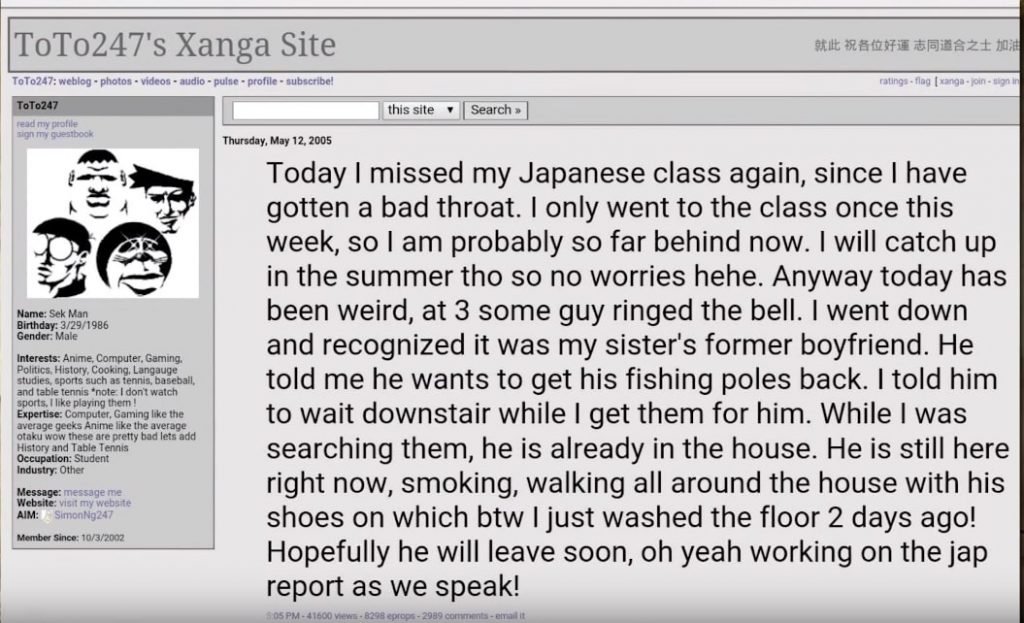 His last vlog entry described every detail of what was going on in their apartment, "he is already in the house, he is still here right now, smoking walking around the house with his shoes on which btw I just washed the floor 2 days ago."
It was moments after updating the vlog both Simon and his sister were brutally stabbed multiple times until they were dead. The vlog entry was used as a key piece of evidence into catching their killer nad bringing him to justice.
1. Deadly Deception
Broadcasting your love on the internet can seem like a perfect thing until it's not. Jojo Stai was in a relationship once she was very passionate about, she frequently documented her relationship over Instagram posting multiple pictures of a couple out on dates and freely expressing her happiness for the world to see.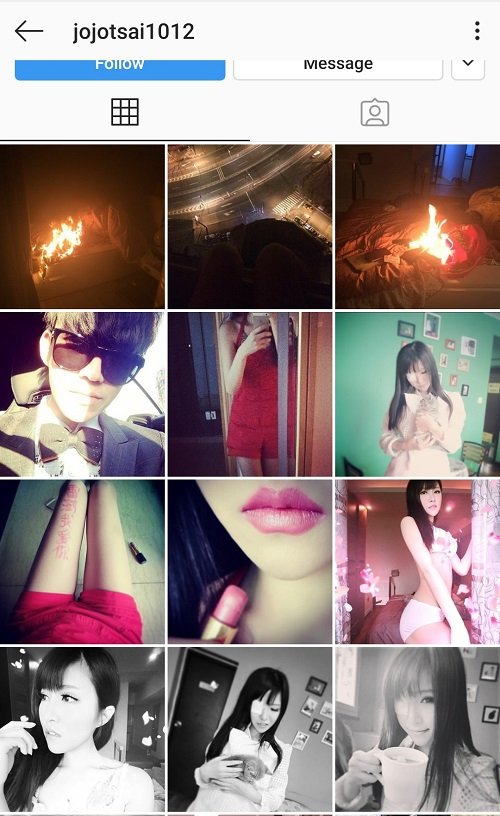 Things were going great until one day her boyfriend unexpectedly ended the relationship after his mother had disapproved of her. This infuriated and saddened her. In fact, it was at this point an obsession had begun to surface not being able to accept the breakup she began posting seductive images and videos of herself in hopes of bringing him back.
It eventually escalated to Jojo posting multiple images of her now ex-boyfriend as well as images displaying his belonging on fire with the caption "I never thought you'd deceive me, how dare you?"
Things took a much darker turn when her heartbreak overthrew her emotions. One of the final images posted on Instagram was of her feet dangling from the top of an apartment building. An earlier caption she had written translates as "When I'm dead I will haunt you day and night, I will never leave you."
This was one of the last messages she'd ever sent into the world before she jumped and took her own life.