Nine-year-old Quaden Bayles' mother said she spotted a student patting him on his head and making fun of his height.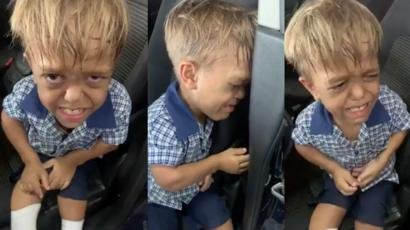 A woman in Australia has shared a heartbreaking video of her son crying and saying he wants to kill himself because of the constant bullying he faces at school because of his height.
Yarraka Bayle says her son, who has dwarfism, is constantly bullied in his school by his classmates to the point of being suicidal. In the video that appeared on the social media site Facebook, Quaden can be heard saying: "Give me a rope, I want to kill myself"
"I want to die right now! Gimme a knife I want to kill myself!" sobs the inconsolable youngster, who was born with Achondroplasia, a genetic condition that results in dwarfism. "I want to stab myself in the heart, you watch me. I want someone to kill me."
Yarraka Bayles's intention was to sent out a message on the impact bullying has on children., and how bullying affects families and asks for advice about how to deal with it.
Celebrities And Sports Stars sent their love to Quaden Bayles
"Quaden – You are stronger than you know." Wolverine star told him in a video. "Everyone, let's please be kind to each other. Bullying is not okay, period. Life is hard enough. Let's just remember: every person in front of us is facing some kind of battle, so let's just be kind."
Quaden – you've got a friend in me. #BeKind @LokelaniHiga https://t.co/8dr3j2z8Sy pic.twitter.com/jyqtZYC953

— Hugh Jackman (@RealHughJackman) February 20, 2020
Jeffrey Dean Morgan
"What I want you to know is that you have friends — me included. I am your buddy,"
"You have a bunch of friends out here, out in the world that you haven't met yet. We're here, we got your back. You need to know that. It'll get better."
He said that as a dad of a nine-year-old, he knew first hand that kids "can be horrible."
"And that's because their parents aren't doing their job," he said. "It's gonna be better. It's gonna get better, sorry, it'll get better, I promise it will. You hang in there, alright? DM me!"
February 20, 2020
Brad Williams
Brad Williams, who also has dwarfism set up a GoFundMe for Quaden, "I'm setting up this GoFundMe to let Quaden know that bullying will not be tolerated and that he is a wonderful human being who deserves joy," he wrote.
"This isn't just for Quaden, this is for anyone who has been bullied in their lives and told they weren't good enough. Let's show Quaden and others, that there is good in the world and they are worthy of it."
NRL Indigenous All Stars Rugby Team
The NRL Indigenous All Stars rugby team meanwhile posted a video asking Quaden to lead them onto the pitch for this weekend's annual exhibition match against the Māori All-Stars on the Gold Coast.
The Indigenous #NRLAllStars have invited 9-year-old Quaden Bayles, a victim of bullying, to lead them out this Saturday night ❤️ pic.twitter.com/UcXhNt3QKF

— NRL (@NRL) February 20, 2020
Share the love with this sweet angel! Seriously want him to see that bullies don't control his life and there's a whole world out there that loves him for who he is and that's a beautiful human being! ❤️ pic.twitter.com/g5jykciUJO

— PAIGE (@RealPaigeWWE) February 20, 2020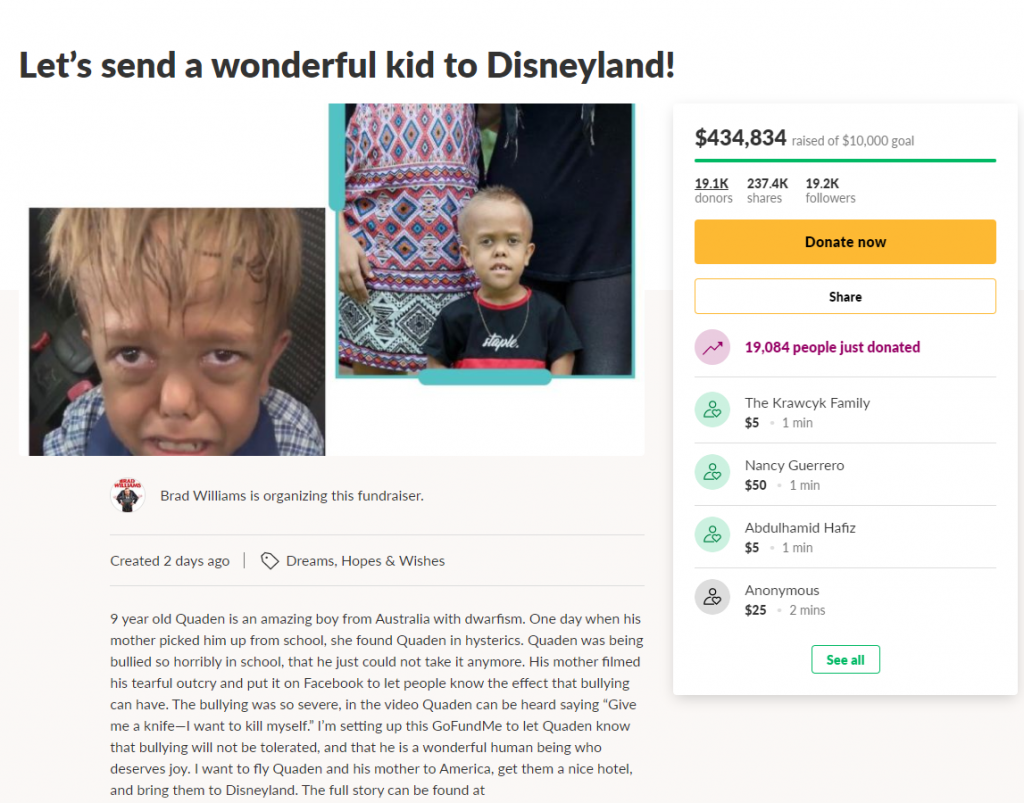 Brad Williams said he has been in touch with Quaden's mother and would donate any excess money from the fundraiser to anti-bullying and anti-abuse charities.