Tsutomu Miyazaki, also known as the "Otaku Murderer" was born prematurely on August 1st, 1962. Miyazaki was a Japanese serial killer, cannibal, child rapist, and necrophilia who abducted and murdered four young girls in Saitama Tokyo from August 1988 to June 1989.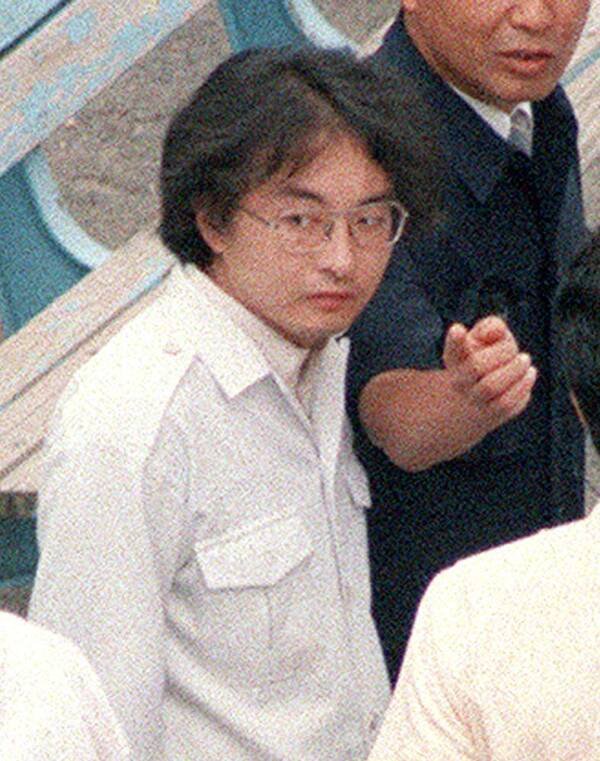 Early Years
While growing up Tsutomu Miyazaki was a sensible child who was teased a lot during school, which made him inward and shy. He had a birth defect where his hand joints were fused together preventing him from being able to bend his wrists upwards; long and thin and gnarled and utterly creepy-looking.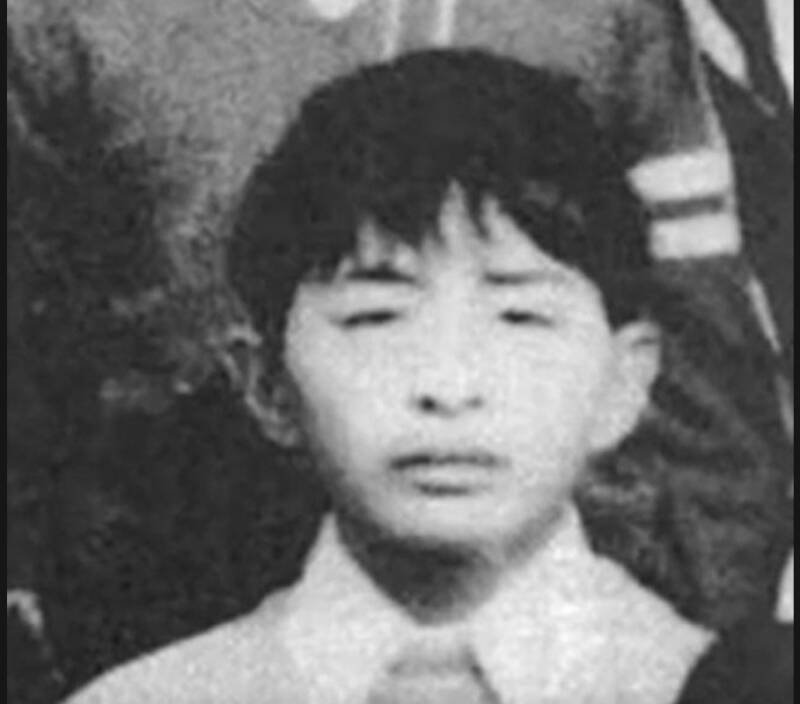 Miyazaki tried to stay alone and started reading comic books after not getting along with the kids. But this didn't take time and soon he got bored and this time his companion was Japanese pornography, he had amassed over 5,763 of these Screamadelica videos. Soon the videos weren't enough for him.
Tsutomu Miyazaki got bored with Japanese Pornography and said – They black out the most important part.
When nothing seems to be working for Miyazaki, he decided to film them, he would go to the tennis court and manage to click pictures of girls playing tennis.
Family
Tsutomu Miyazaki was a kid with opportunities, he was designated to take over his father's business someday. His father owned a newspaper company and wanted his son to take over his business in the coming years.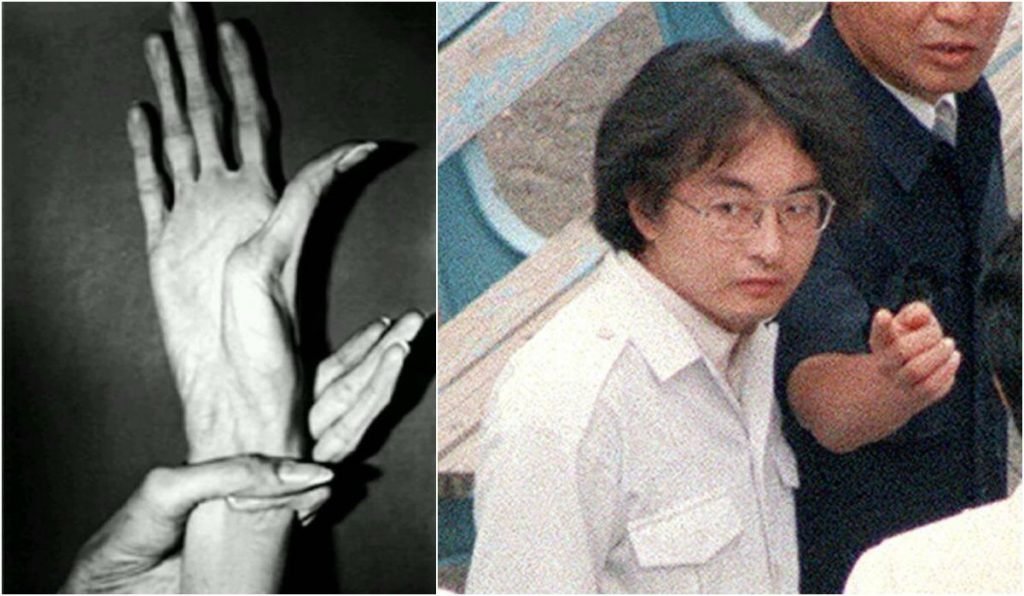 But Miyazaki had made his mind, he wanted to be a photographer
Miyazaki loved spending time with his grandfather, he loved his grandfather so much that he even ate parts of his ashes so he can stay with him forever.
Things went downhill for Tsutomu Miyazaki after the death of his grandfather as on one occasion he was caught spying on one of his sisters as she showered.
His anger was peaking day by day as when his sister expresses her concern over him watching her showering, rather than apologizing, he beat her up.
When she told her mother, she was angry at Tsutomu for both the things he did, first spying on her sister and then beating her. He went so crazy that he beat his own mother instead of saying sorry.
Becoming the Otaku Killer
After the death of his grandfather, he distanced himself from the family. "I felt all alone," Miyazaki reported after his arrest. "And whenever I saw a little girl playing on her own, it was almost like seeing myself."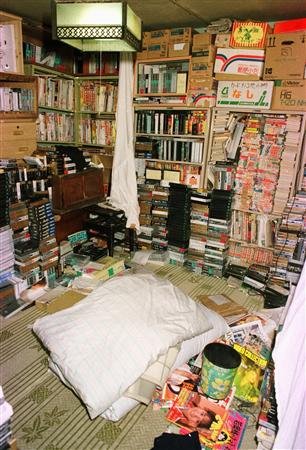 On August 22, 1988, Miyazaki abducted a 4-year old, Mari Konno, from a park in Tokyo, he took her to a quiet spot in a wooded area, west of Tokyo and parked the car under the bridge where it couldn't be seen by a passerby. They chatted for around 30 minutes, Miyazaki then strangled her and proceeded to engage in sexual acts with her corpse.
He carefully undressed her, left her naked body in the woods and returned home with her clothing. For several weeks he left the body in the woods, checking periodically. He removed her hands and feet and kept them in his closet.
Miyazaki burned the rest of the body and took some ashes with him, he sent some of the ashes to girl's parents along with a few of her teeth and photos of her clothes. He sent a postcard too which read: "Mari. cremated. Bones. Investigate. Prove"
A month later he did the same to another girl who was seen walking by herself. Masami Yoshizawa, who Miyazaki spotted walking home along the road. He offered her a ride and then just he did the same as he had with Mari Konno. He sexually assaulted the corpse, left it naked and took the victim's clothing with him.
Confession Letter by Tsutomu Miyazaki
Months later Miyazaki took his third victim, another four years old, he drove her to the prefecture of Saitama to a parking lot and took photos of her while she was alive. Miyazaki then dumped her body there and left her clothes close by in a green area.
Miyazaki again sent a postcard to the victim's family but this time he used letters cut out from magazines. The postcard read: "Erika. Cold. Throat. Rest. Death."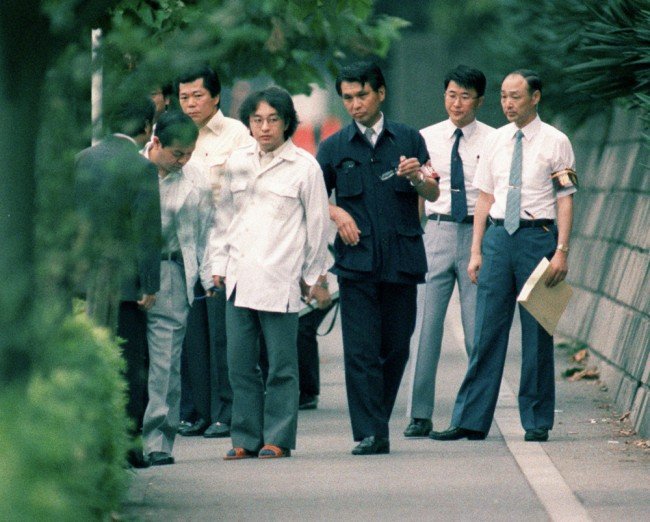 The final killings of the four by Miyazaki was one of the most disturbing. Miyazaki abducted a five-year-old Ayako Nomoto in June of 1989. He convinced her to let him photograph her, he then murdered her.
But this time it was different rather than dumping the body in the woods he took the corpse home. At home, he spent two days sexually abusing the corpse, photographing her and masturbating. The videos were later found in his room.
When decomposition made it impossible for him to further do anything with the body, he chopped her off. He dumped the head and torso in separate locations including a cemetery, a public toilet, and nearby woods. He admitted to eating parts of her hands and drinking blood from her.
However, he began to fear that the police would find the parts in the cemetery and after two weeks he retrieved them. After that, he kept the body in his closet.
The police identified Konno's remains from the box he had sent to her parents. He then sent the parents a confession letter he which he described Konno's four-year-old body in decomposition.
"Before I knew it, the child's corpse had gone rigid. I wanted to cross her hands over her breast but they wouldn't budge…Pretty soon, the body gets red spots all over it…Big red spots. Like the Hinomaru flag…After a while, the body is covered with stretch marks. It was so rigid before, but now it feels like its full of water. And it smells. How it smells. Like nothing you've ever smelled in this whole wide world."
The investigation, Trial and Sentencing to Death
A serial killer never stops killing, unlike the case with BTK, Tsutomu Mayazaki tried to kidnapped his fifth victim in July in 1989. Miyazaki was wondering the park when he spotted two sisters playing their yeard. He managed to separate the youngest one from her old sister and drag her to his car.
At this time the older sister ran to get her father who then attacked Miyazaki, who was trying to take photos of his daughter in the car. Miyazaki ran naked but came back after some time to retrieve his car and was ambushed by the police.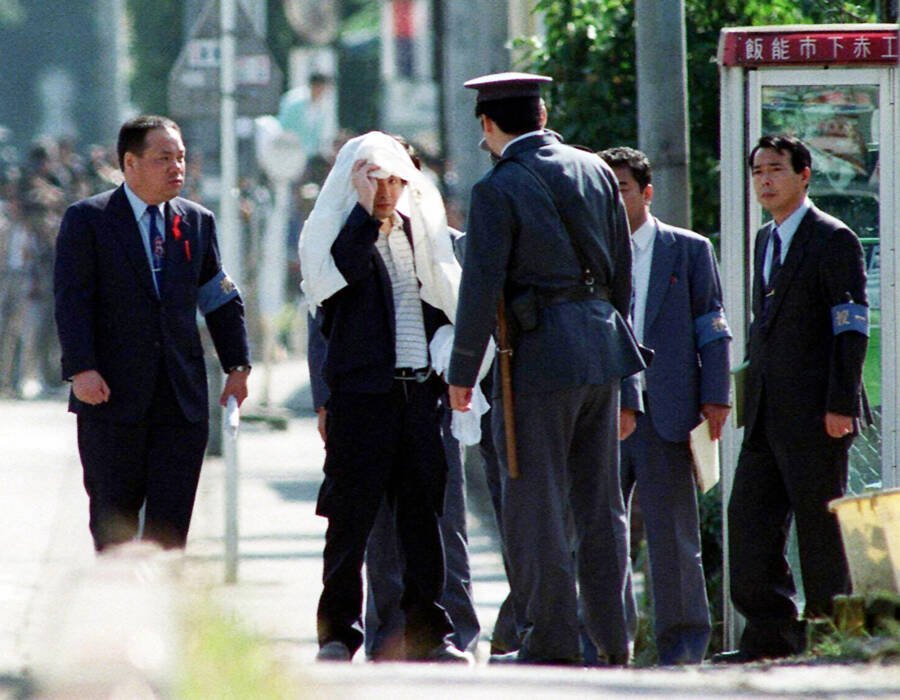 After Miyazaki was arrested police organized a search for his car and apartment, which was something no one could have expected.
In the apartment police found over 5000 videotapes, some of anime and slasher films but what was more disturbing were the videotapes of him abusing the corpses. Police also found the photographs of his other victims and the pieces of their clothing.
The body of his fourth victim was decomposing in his bedroom closet with her hands missing. Throughout this trial, Tsutomu Miyazaki remained incredibly calm. He answered questions calmly and when asked about his crimes, he blamed them on "Rat-Man," his alter-ego who lived inside him and forced him to do terrible things.
Miyazaki believed "I've done a good job. I am a Japanese hero and this is my stage," during his trials.
Aftermath
Tsutomu Miyazaki's parents disowned him and his father refused to pay his legal fees, as his father said that it would be an insult to the victim's family. His father committed suicide in 1994 and blamed him for everything.
He refused to apologize for what he had done compelling some people to think he was insane. The psychiatrist that court-appointed had two different opinions, one he had a personality disorder but knew exactly what he was doing and others that his mind was not working correctly during the killing spree, he has a feeble mind.
In 2008, his sentence was carried out and Tsutomu Miyazaki, the Otaku Killer, the Rat-Man finally answered for the heinous crimes he committed, after several trials he was hanged to death on June 17, 2008.
Now that you've read about the Japanese Rat man, read more about a serial killer who sent letters to family members of his victims to tell them how they tasted — Albert Fish and read about Actors who killed in real life.