Some comment labeled Alexandra Tyutcheva as a "cruel killer" and one even said "I wish it was you lying there instead of the bear."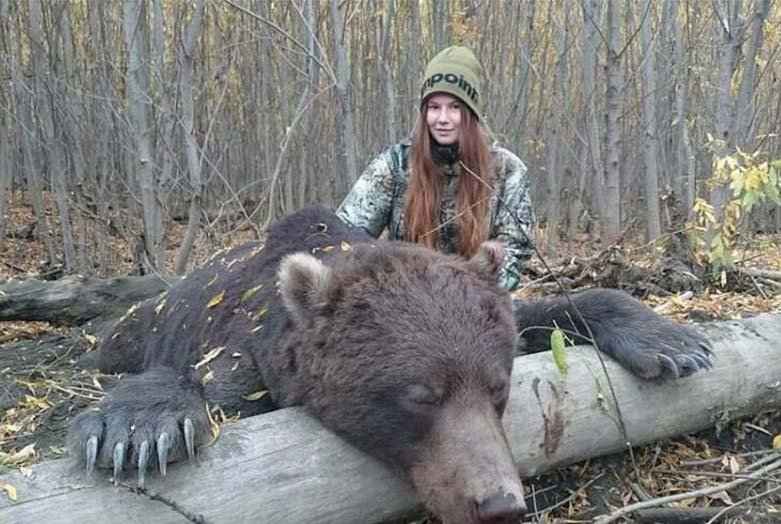 23-year-old, Alexandra Tyutcheva, from Serpukhov in Russia has posted pictures of herself posing with bears she shot and boasted about how she loves skinning them.
Alexandra Tyutcheva posted an image with a 550-pound bear which she shot to death, before skinning it and then posting the image on Instagram.
The Russian Trophy hunter has posted many photos of herself posing with dead animals and she even boasted about her penchant for skinning them. Not only Alexandra only killed deer and rams, and she has received hate for it, but that doesn't stop her.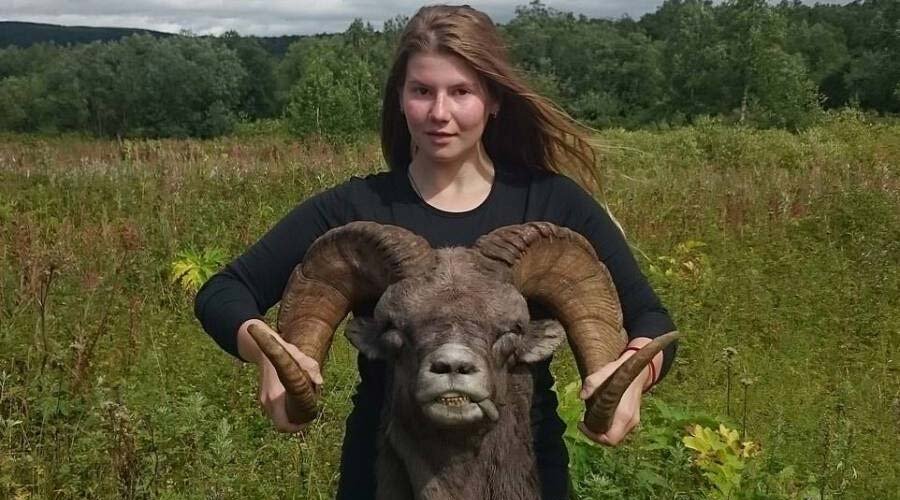 In her defense, she argued that hunting certain animals can be a vital method of protecting other populations in danger of drastic reductions. Alexandra has even settled on the subject of her bachelor's degree theses.
She believes that hunting is a misunderstood activity, "There are many people that don't understand and throw hate at you whilst having zero knowledge on the topic."
She further added, "They don't realize how hunting influences our ecology, Proper hunting management can increase the number of elephants in Africa, for example by thousands or bighorn sheep in the United States."
However, this doesn't go well with the images she posted on her Instagram account, as she killed not only bears but many other animals.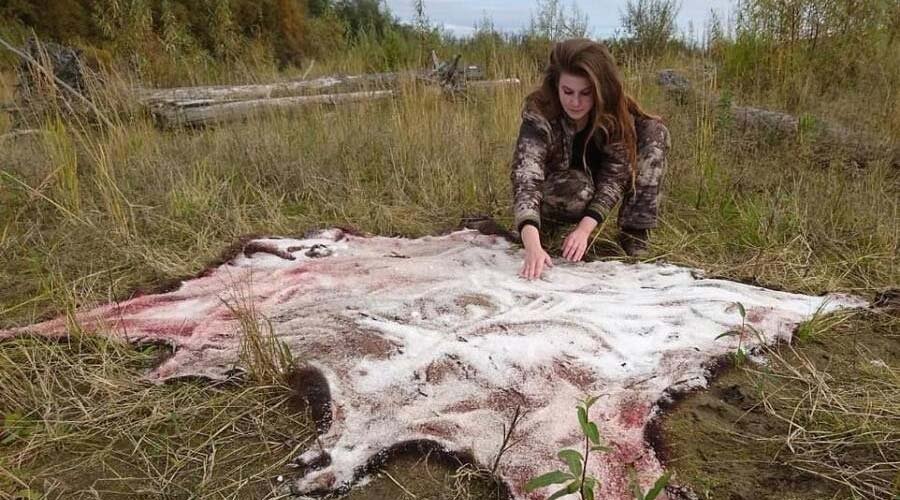 She claimed that no part of the animal goes to waste, she dries out the skin to use it as clothing or carpeting to eating and storing every bit of meal. On the other hand, she also boils the horns and antlers of her kills, for taxidermy purposes.
She claimed that properly managed hunting can be effective and it can have a tremendous effect on ecology.
Alexandra has traveled miles to hunt bears, deer, and rams with her father since she was 18 years old, but she began fishing and camping with her father when she was just 12 years old. She doesn't seem to be bothered by all the comments labeling her "cruel killer" and one even wishing that "it was you lying there instead of the bear."
Even though Alexandra started hunting at an early age, her mother and sisters have stayed clear of her supposed recreational activity. She says "It's hypocritical to eat meat and then also criticize people who work hard to provide their own meat for themselves… I share links to articles that educate people about sustainable and conservation hunting."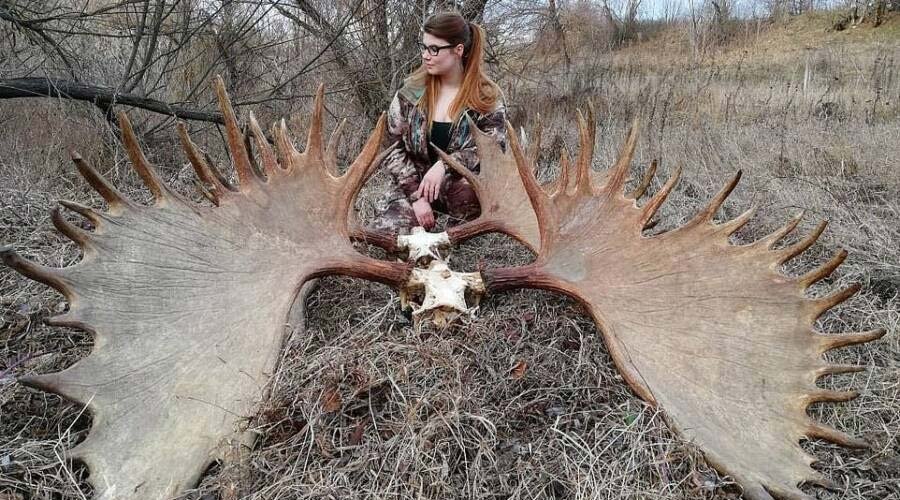 She believes that "Hunters, do not hide their passion or apologize for being a hunter," she wants to inspire other hunters as well.
Tyutcheva maintains her brand of hunting is not only a natural human sport but also ensures the conversation of sustainable animal populations.
She explained, "there are many people that don't understand and throw hate at you whilst having zero knowledge on the topic."
Alexandra's biggest kills was a Kamchatka brown bear, which she estimated around 550 pounds. She sees this part as a "hobby, job, and philosophy," and loves what she does.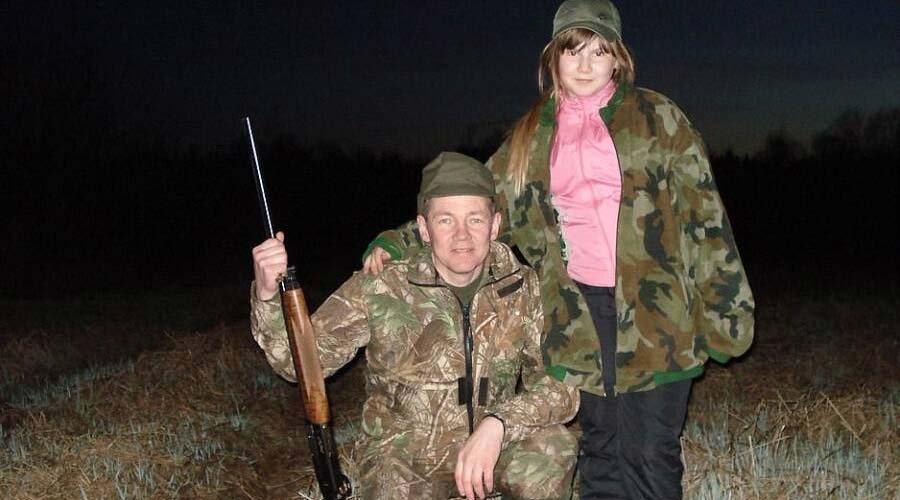 "I love the strong connection I have to nature and the understanding of how things work in life, You challenge yourself in harsh conditions, storms, rain and snow, but that's just nature. You become more patient with experience."
Many are convinced that she is just another trophy hunter who likes to hunt and has fun murdering animals, but others, like Alexandra Tyutcheva herself, believe that moral hunting not only bonds one to the natural world but helps vital parts of it to thrive.
"As for other people, do not judge something you don't understand," she said, first search for information and talk to people – try to learn, curiosity and self-education is important.
What are your thoughts? Is it okay to hunt animals?
Read more from the website.