On the surface, John Wayne Gacy seemed a solid citizen, he owned a successful construction business and was also active in politics. But the man who entertained neighborhood children turned out to be their worst nightmare. John Gacy was a sexual psychopath who lured dozens of young male victims to his house before assaulting and murdering them.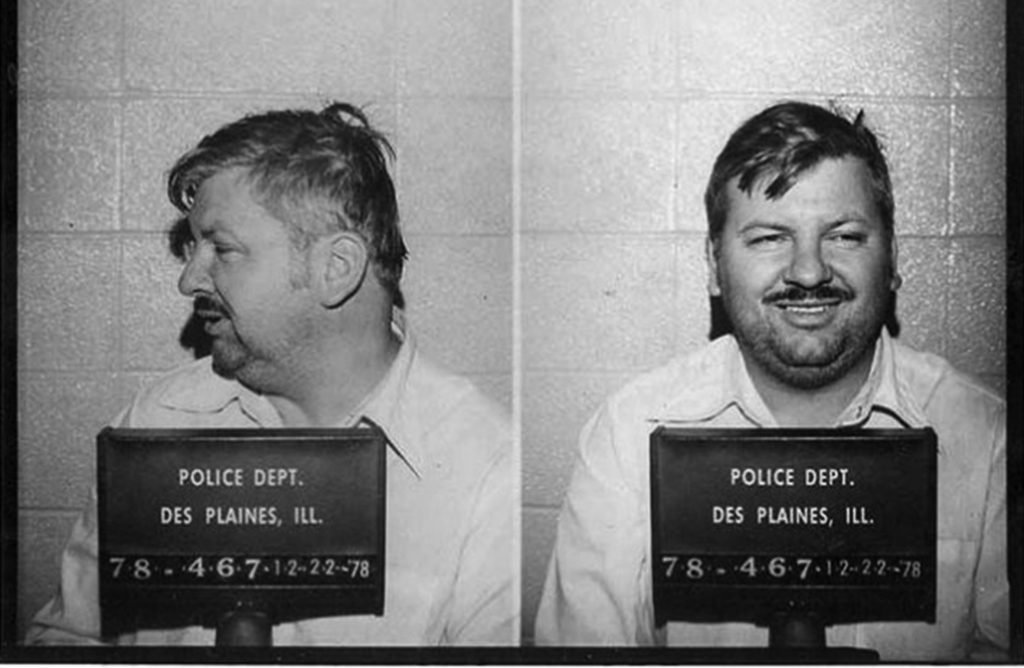 John Wayne Gacy was convicted and later executed for the rape and murder of 33 boys and young men, 28 of whom he buried in the crawl space under his house, between 1972 and his arrest in December 1978. He became notorious as the "Killer Clown" because of the many block parties he attended, entertaining children in a clown suit and makeup. Here are some of John Wayne Gacy's Quotes
John Wayne Gacy Quotes
"If you believe you've lived your life the right way, then you do not have nothing to fear."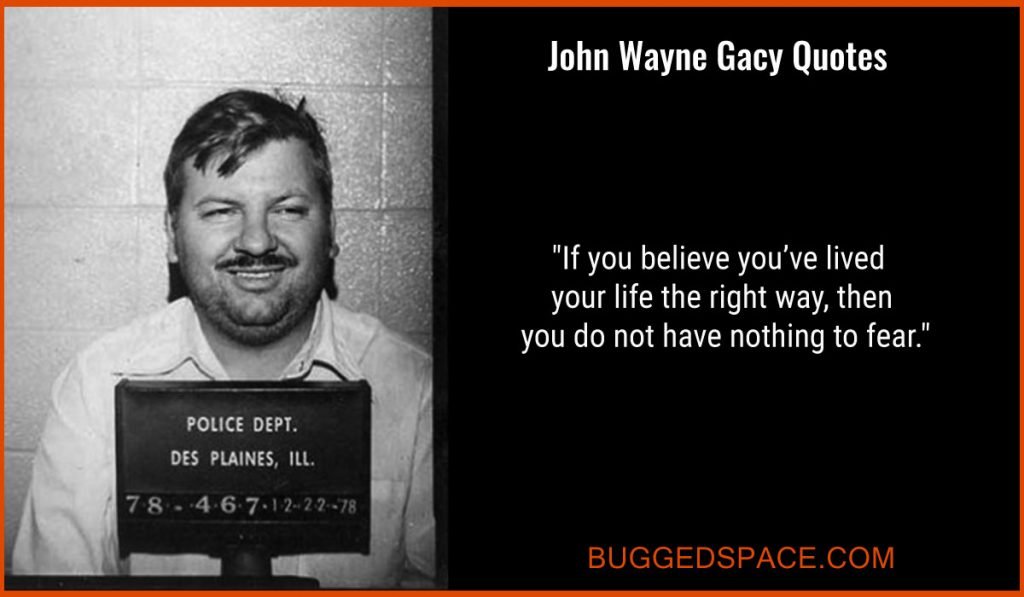 "And then the time I was a clown and went to the hospital to visit the children, and I went into a room by myself where a little boy was, and his mother started to cry, and after I visit with the boy I went out and asked the mother if I had done anything wrong.  She said not just that her son had been in there for six weeks and that was the first time she has seen him smile."
"I would definitely not be homosexual. I have nothing against what they do and I don't deny that I've engaged in sex with males but that I'm bisexual."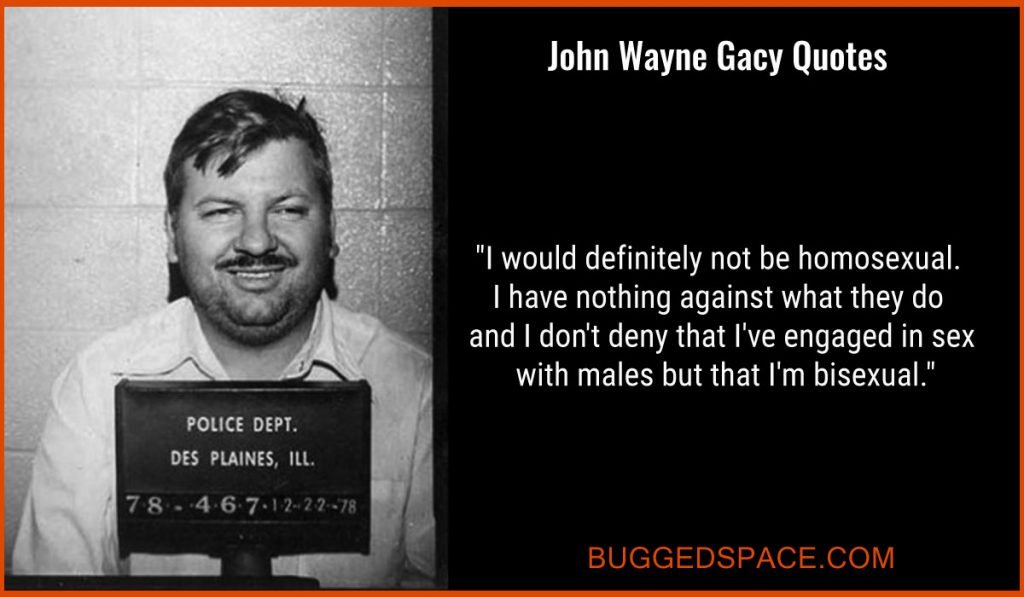 "Number of all the people who worked for PDM since most of it was subcontracted work, they were all young tradesmen. This is what the state would like for you to believe. But we have very little use for inexperienced teenagers. So they were mostly used for summer..for fillers. It doesn't make sense to use a tradesman to do cleanup work on a job when you're paying a tradesman $15 an hour and you can hire a young man or boy at say $7 or $8 an hour to sweep up after the contractors outta there."
"The dead won't bother you, it's the living you have to worry about."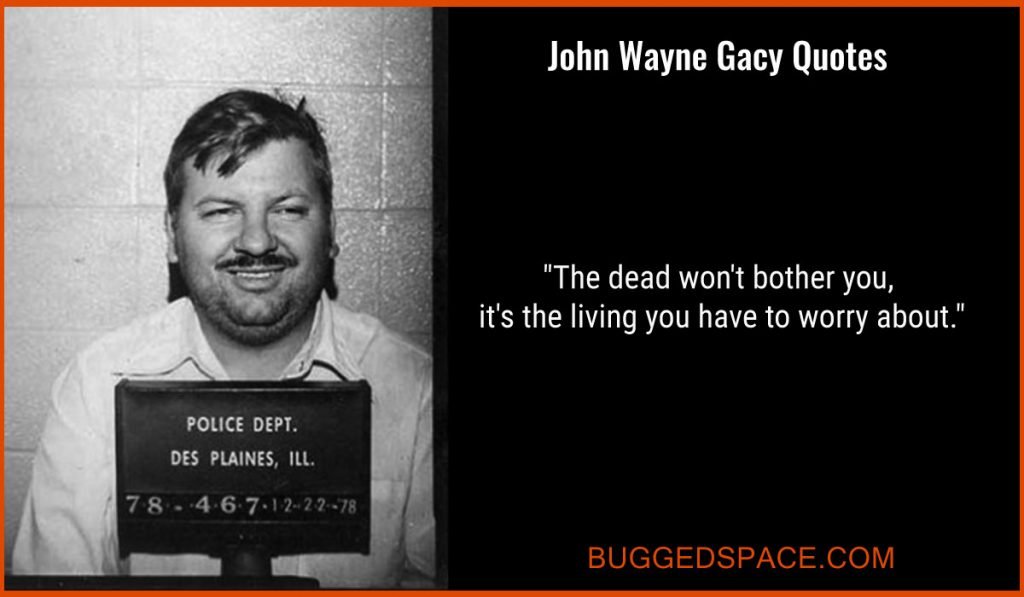 "No, I don't think that's possible. I think it…after 14 years under truth serum had I committed the crime I would have known it. There's got to be something that would… would click in my mind. I've had photos of 21 of the victims and I've looked at them all over the years here and I've never recognized anyone of them."
"I've taken 3 1/2 hours of truth serum—sodium amytal—the maximum amount I could have. It shows I have no knowledge of the crime whatsoever."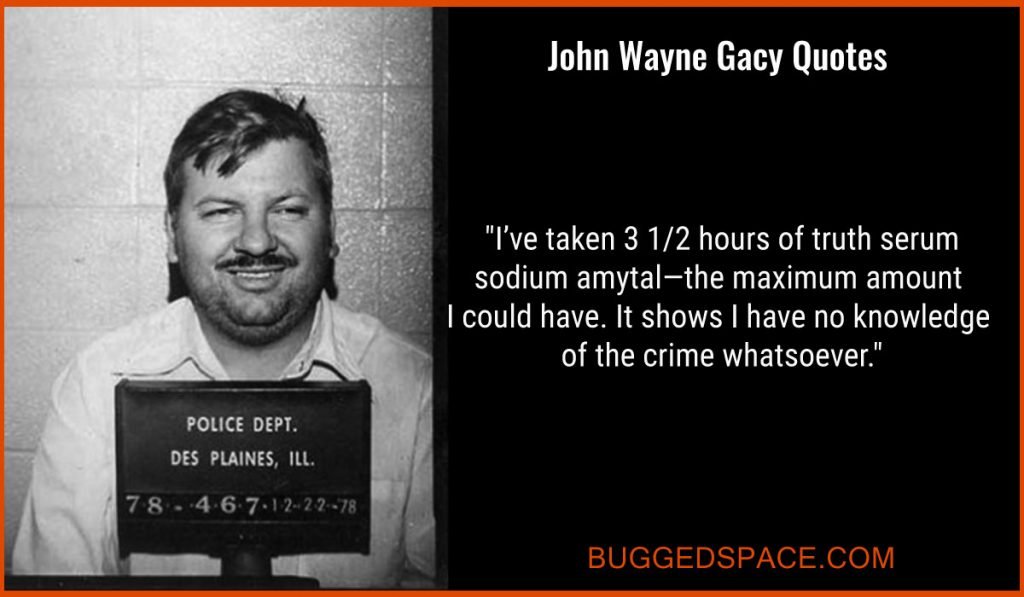 "If you're talking about the Summerdale house and the bodies found there, we feel that some of them died of a drug overdose, then buried alive. Trouble is the state never did toxicology on the victims, as they wouldn't fit with their theory that they were all strangled. Even Dr. Stein says that the 13 died of suffocation and 10 were left undetermined, which leads me to believe that there's…that they were not killed the way the state wants you to believe."
"Walt Disney is a mentor for me, because I've always enjoyed his creativity."
"Keep in mind the public has been brainwashed, and nearly 80% of what is known about me is fantasy and self-serving theories of the state. But overall, I am an embarrassment of the justice system because if I am right then they are wrong and the killers are still out there. For political reasons it would be better that I drop dead, then they could all say what a great job they've done, and nobody else would be pushing for the truth to come out."
"A clown can get away with murder."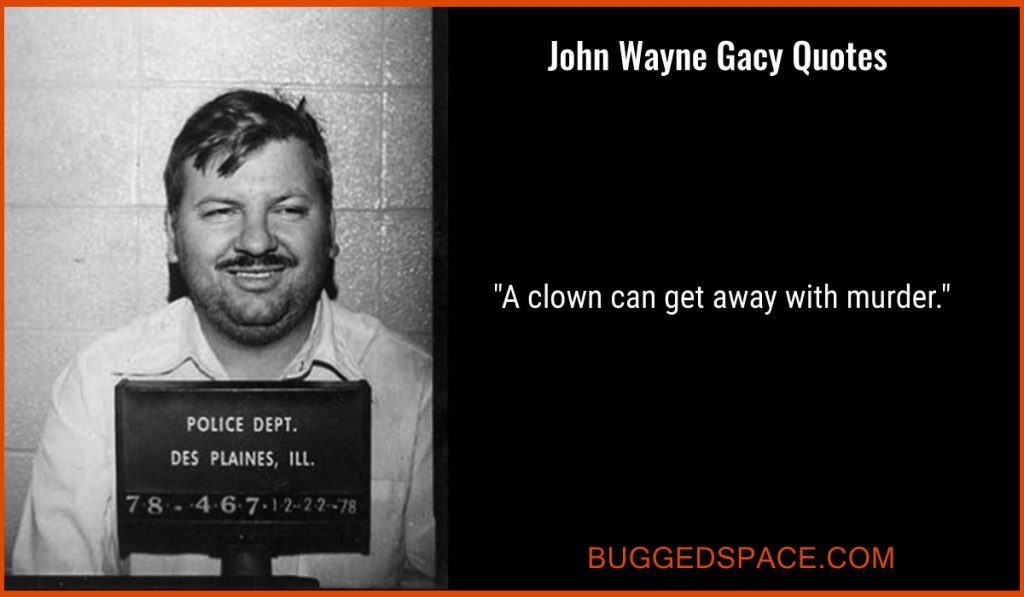 "Yes I marked the spot in the garage..when I was back at the house on December 22. They had asked me with all of the rebuilding of the garage, which was the last area of concrete..in the last area where the concrete was poured. And they handed me an orange spray can and I put an 'X'..that's it! An 'X' over the spot in the corner of the garage where I thought the last area was poured. Now all of a sudden Kunkle claims that I not only drew an 'X', but I put an 'O' on top of it where the head was and made the 'X' look like it was a stick figure..and that's not true."
"It wasn't in the states best interest to let the jury know, they said it would raise doubt that John Gacy acted alone. The defence attorneys didn't bring it out because it didn't have..it didn't go along with their insanity defence, showing others were involved."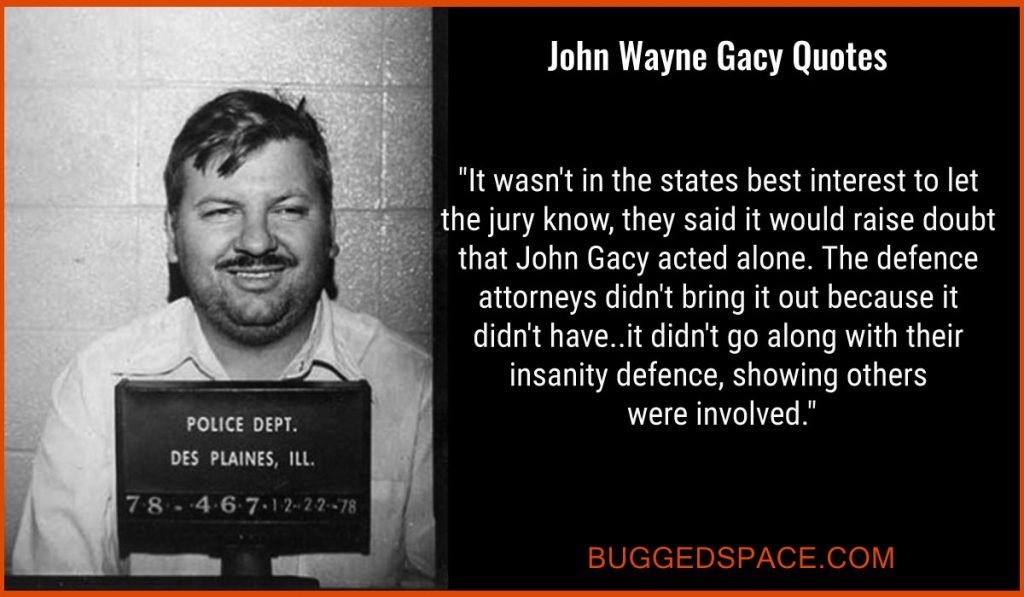 "Well, apparently nothing as of December 13, 1978. There were 20 trained police officers came to the house, with a warrant..searched the house, and they went down in the crawlspace…while I was being held at the jail in Des Plaines, Illinois. They never took anything from the crawlspace other than bringing up a lime into the house. There also were no mounds of dirt like what is mentioned in books."
"There was no smell. Over the years time other than when it rained, the musty odour was present. People were in and out of that house daily for years. And other than when it rained, there was no odour and certainly not like what some of the books said. That's all fantasy. If that odour was there somebody would have noticed it sooner."
Now that you've read some of the John Wayne Gacy QUotes but have no idea who the man was? Read here.
"Yes that's true but the house wasn't home. Like what you..you know, what you go to a home to each night. The Summerdale house is rented to PDM contractors. There were 12 keys out to it. But that was never allowed to come out at the trial..as it would put doubt in the state's theory. They didn't want anybody to know that people had keys to the house. Plus the fact that I wasn't always at the house, so others used it just as much…and again that wasn't brought out at the trial as it didn't fit with the state's theory of the case that I committed all the crime."
"My dad was domineering. He had a different set of values, but also a very stern individual. My dad drank a lot, and when he drank a lot, he was abusive to my mother and to me. But I never swung at my dad, because I loved him for what he stood for."
"I don't believe in hitting children. I don't believe in spoiling a child, either."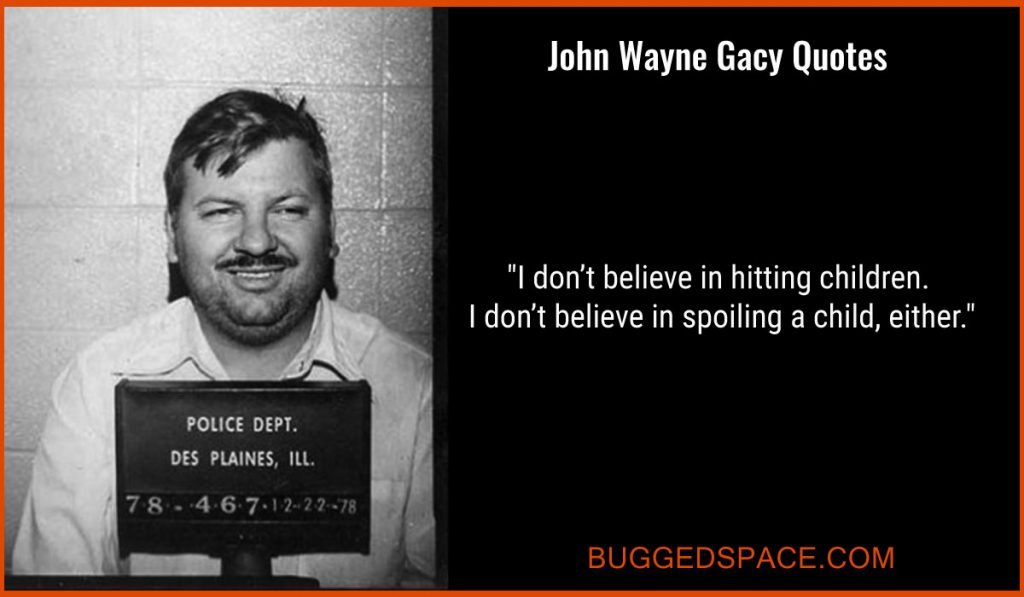 "That is what has been said in the media and at the trial. To this day nobody has produced one. There is no written confession, there is no tape-recorded confession, there is no police stenographer typed confession. It was in my appeal, and the court refused to look at it and the state refused to answer it. If they had nothin' to hide I can't understand why they can't produce one."
"I don't remember killing anyone, I could have done it without knowing it. I am not sure if I did it."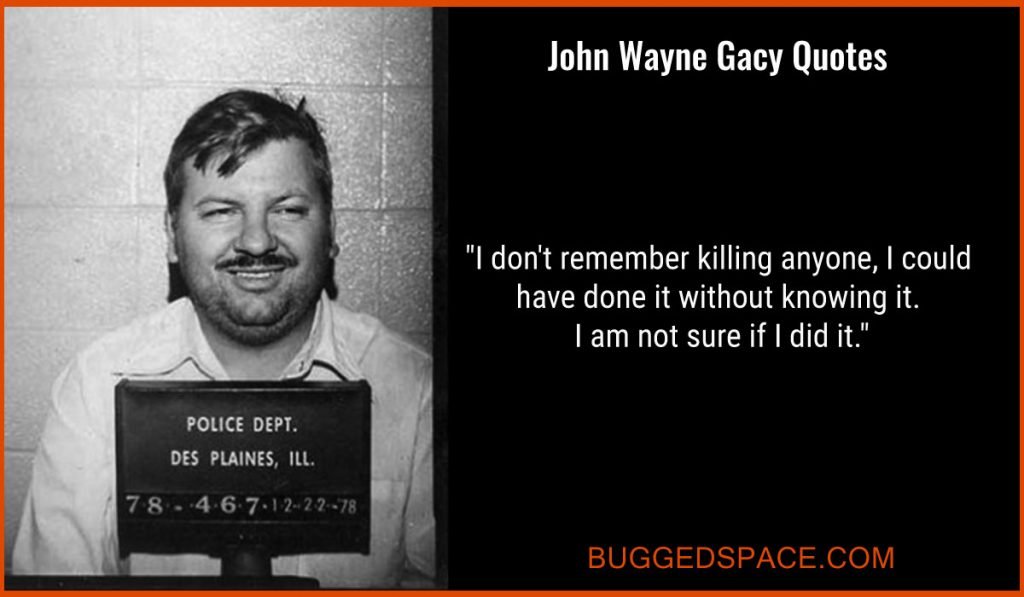 "Nowadays, do you realize that by 1993, that 50 percent of the American families will be single-parented? And that shows a breakdown in the church, in not being able to hold families together."
"GG Allin is an entertainer with a message to a sick society. He makes us look at it for what we really are. The human is just another animal who is able to speak out freely, to express himself clearly. Make no mistake about it, behind what he does is a brain."
Now that you've read John Wayne Gacy Quotes, read Quotes from the notorious serial killer Ted Bundy, or from a serial killer who tried to create sex zombies.