"It's totally free of charge." — James Anderson, originally from Liverpool, is being praised for sending a £0 bill to a 91-year-old woman suffering from leukemia. And it turns out that this is just one of many acts of kindness from this modern-day Good Samaritan!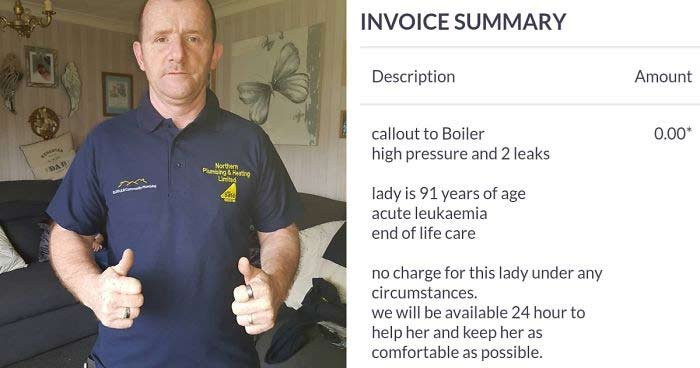 Even though Anderson is running DEPHER since 2017, his act of kindness for a 91-year-old woman ended up making international news a few years later. His act has left everyone in awe of the man and one woman described him as an "Angel Dressed as a plumber."
After noticing that other workers were not treating customers properly, James Anderson of Lancashire, England, went into the plumbing and heating business to help people. For more than 20 years, Anderson has done just that, both on and off the clock.
Christine Rowlands, the woman's daughter, initially shared the bill on Facebook with the message: "No charge for this lady under any circumstances. We will be available 24 hour to help her and keep her as comfortable as possible."
But this isn't Anderson's first act of kindness. He claims to have helped and assisted thousands of people since turning his plumbing business into a community project for vulnerable people. He told that he has helped 2,389 people since March 2017.
He says that he was inspired to start DEPHER after witnessing another elderly man being "manipulated" by another engineer in the area. He went to a home without heat in 2017 and discovered that an unscrupulous heating company had attempted to defraud the elderly and disabled homeowner out of $7,500.
As a result, James closed his private company and founded Depher (which stands for Disabled & Elderly Plumbing & Heating Emergency Repair)!
In a phone interview, Anderson said, "It got me thinking about other elderly and vulnerable people — we need to do more to help the people who need it the most."
"Many elderly and disabled people don't like asking for help, and if they can't afford to fix the boiler, they may refuse to do so and end up in trouble. We're here to relieve your stress."
Anderson hopes that by lowering the price, people will be able to put the money saved toward other important aspects of their lives, allowing them to "keep their independence."
He admitted that he couldn't always provide a free service because of funding constraints, and that it had been a "struggle" at times.
"I don't want any elderly or disabled person in this country to die or suffer because of a cold home or a lack of funding to repair the boiler, this should not be happening; the number should be zero. It's that simple."
To get the job done, the non-profit DEPHER relies solely on crowdfunding and donations and has previously received £2,000 from the Duchy of Lancaster Benevolent Fund, the Queen's charity.
Because he refuses to turn his back on someone in need, Anderson has racked up debts of around £8,000 as a result of running the service. He insists, however, that they are under control, and he is repaying the bank in monthly £100 installments.
But after the news of him helping the 91-year-old lady went viral, he received donations to help pay off his debts and fund future projects, as well as free advertising for his services. The best part, according to James, is that it has inspired others to help the elderly in their own communities.
James has helped 10,000 families over the years
Initially, James and DEPHER focused on assisting the disabled and elderly with plumbing and heating issues. And he's aided more than 10,000 vulnerable families over the years!
During the pandemic, James Anderson began providing food, personal protective equipment, and even paying people's bills. During the pandemic, he spent more than $70,000. However, the humble hero claims that helping those in need has been "worth every penny."
James was personally affected by the pandemic, having battled and survived COVID-19. He began the pandemic as a "healthy 52-year-old" who worked 70 hours or more per week to help those in need. According to the Depher GoFundMe page, "he now struggles to breathe or do normal things."
Because of his health issues, James has had to drastically reduce the number of hours he works. However, Depher, the organization he founded, has grown to the point where it can continue to help the community without missing a beat!
The GoFundMe update states, "We know that he [James] will make a full recovery as soon as possible." "He is blessed with a loving family and the blessings of God."