On May 25, 2003, a Boeing 727 with tail number N844AA was stolen by a man with only a private pilot certificate from Quarto de Fevereiro Airport, Luanda, Angola, and was never seen again.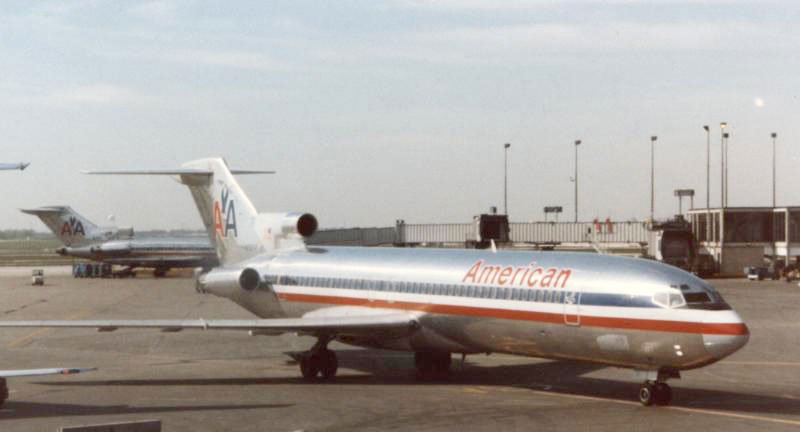 May 25 was a normal day for the air traffic crew with ordinary traffic until shortly before sunset they noticed something quite peculiar. A Boeing 727, tail number N844AA was taxing erratically onto one of the runaways. It made no attempt to contact the tower and departed southwest over the Atlantic Ocean with all lights off. Boeing 727 had been recently filled with 14000(53,000 liters) gallons of fuel which is enough to travel 1,500 miles.
The tower officers tried to make contact but there was no response, and with no lights, the aircraft took off and disappeared. Neither the aircraft nor the men flying the aircraft have been found on land or on the sea.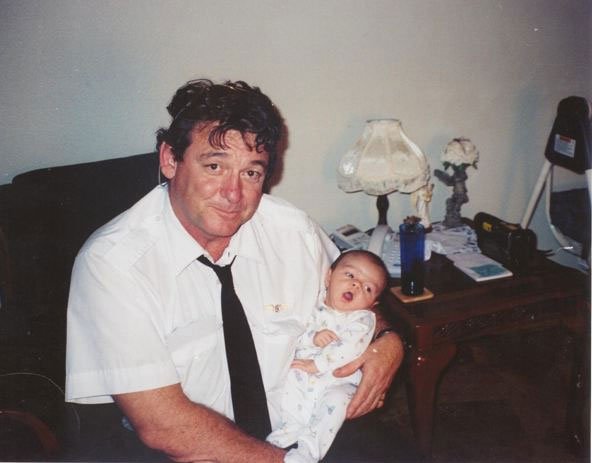 The plane was being leased to Keith Irwin, he acquired the aircraft in Feb 2002 from a Florida based aerospace company owned by Maury Joseph. The Boeing 727 was used for delivering diesel fuel to diamond mines in Angola, but Irwin only used the plane for a while and then defaulted on his payments.
Maury hired a certified aircraft mechanic, flight engineer, and a private pilot named Ben Charles Padilla to return the Boeing 727, now in disrepair, to a flight safe condition, so it could be repossessed. He sent in an Air Gemini crew to fly it out on May 26, 2003, but when the crew arrived the flight was already gone.
The two men who boarded the aircraft were Ben C. Padilla and John M. Mutantu. Ben was an American pilot and flight engineer and John was a hired mechanic from the Republic of Congo. None of them were certified to fly a Boeing 727, as it needed an additional crew member to fly the aircraft.
Since the 9/11 attacks happened, the authorities went on high alert, they search for the aircraft across multiple countries, but got no response. It seemed like the Boeing 727, N844AA and its crew had disappeared.
Theories
Ben's sister told the South Florida Sun-Sentinel in 2004 that her family believes that Ben had been flying the aircraft and was afraid that he subsequently crashed the plane somewhere in Africa, or he was being held against his will.
However, US authorities believe that Ben's history of accounting fraud had played part in the missing of the Boeing 727. Believing that the plane's theft was caused by a business feud that resulted from a scam. Many believe that Ben Padilla stole the aircraft for his own financial benefits.
But Ben's friends have a theory of their own they believe that Ben flew the plane to an airstrip along Tanzania's western border, where he had it stripped and sold off for parts.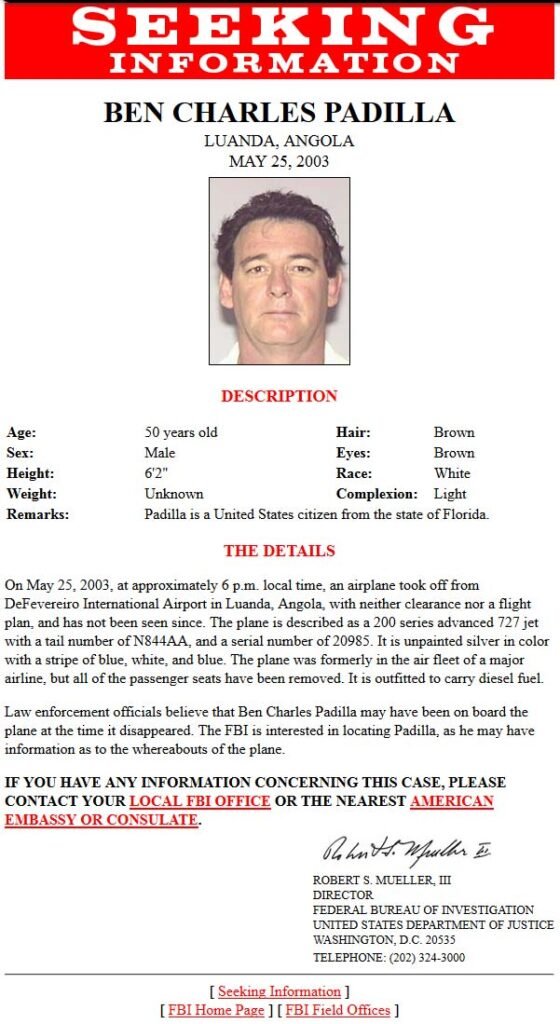 On the other, hand investigators initially believed that Joseph hired Ben as a part of an insurance scheme to recoup his losses. Irwin and Joseph had arranged a$1 million agreement, and Irwin gave Joseph a $125,000 deposit, he would have the aircraft paid off in full within 30 days.
But even after a year, he failed to meet his part of the agreement, and N844AA also sat idle and accrued over $4 million dollars in unpaid airport fees. As a result, Joseph was charged with falsifying financial statements and frauding investors. But Joseph contacted the FBI and volunteered to take a lie detector test, leaving the investigators scratching their heads.
Where is Boeing 727?
With many theories and speculation, there still have been no sightings of Boeing 727 with tail number N844AA, it literally disappeared off the radar. Some believe that it was shot down by the Angolan Air Force over the Atlantic Ocean. While some argue that it simply crashed somewhere after takeoff.
A detailed article published in Air and Space magazine in September 2010 was also unable to draw any conclusion to how and where the plane might go. Despite many researchers and interviews with individuals knowledgeable of details surrounding the disappearance.
We may never know for sure where it went, it is the largest aircraft ever to have disappeared without a trace.
Now that you've read about the disappearance of the Boeing 727, read about the Rowell UFO incident.