Elizabeth Short's murder mystery shook Los Angeles, and it is still unsolved after 70 years. The crime became known as the Black Dahlia murder case, and it is the most hotly debated conspiracy in Hollywood.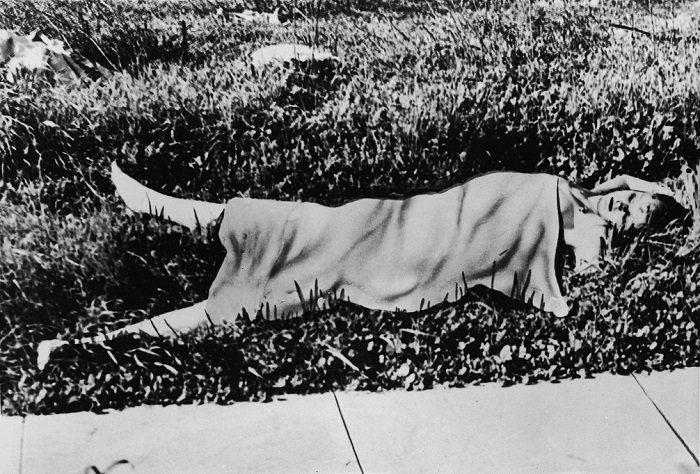 Betty Bersinger was taking her three-year-old daughter on a morning errand on January 15, 1947, around 11 a.m., when she discovered the body of Elizabeth Short, aka "The Black Dahlia," lying in an empty lawn, which she initially mistook for a manikin.
Short's body was cut in half from the waist down and posed with her eyes open, hands above her head, and her face cut up to her ears to create a phony smile. The body was cut with surgical precision, with clean cuts that caused no trauma to internal organs and were soaked in blood, leaving her pale.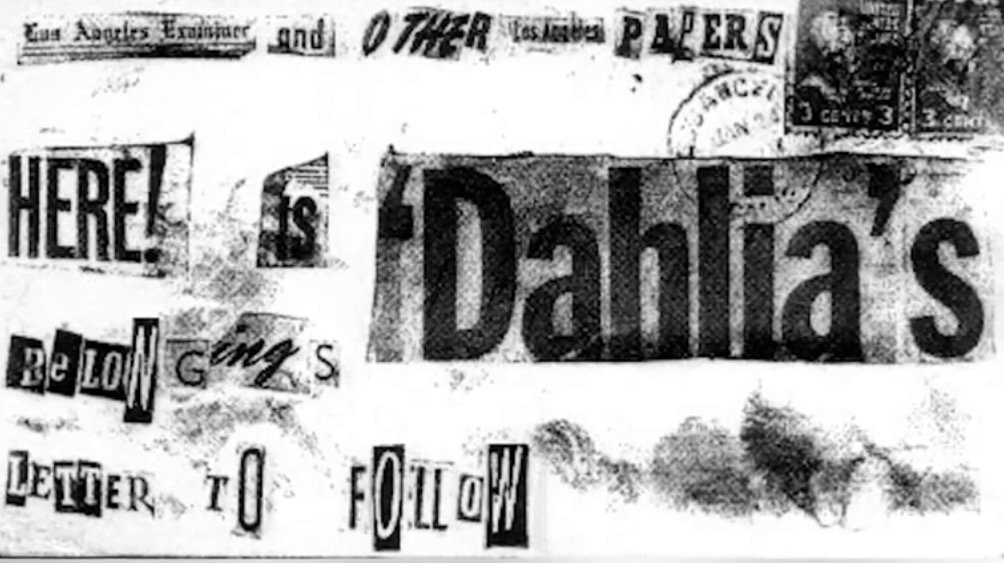 The case was widely publicized in newspapers across the country. An envelope was discovered at the Los Angeles County Examiner's Office 9 days after her body was discovered. The envelope contained Short's social security card, birth certificate, photos, and an address book with a few missing pages.
The fingerprints were cleaned with gasoline, and the letter was addressed with cutout letters from movie advertisements. As previously reported, police received 13 letters taunting them as the investigation progressed, many of which were signed BLACK DAHLIA AVENGER. In order to gather more information, police released a poster looking for Black Dahlia.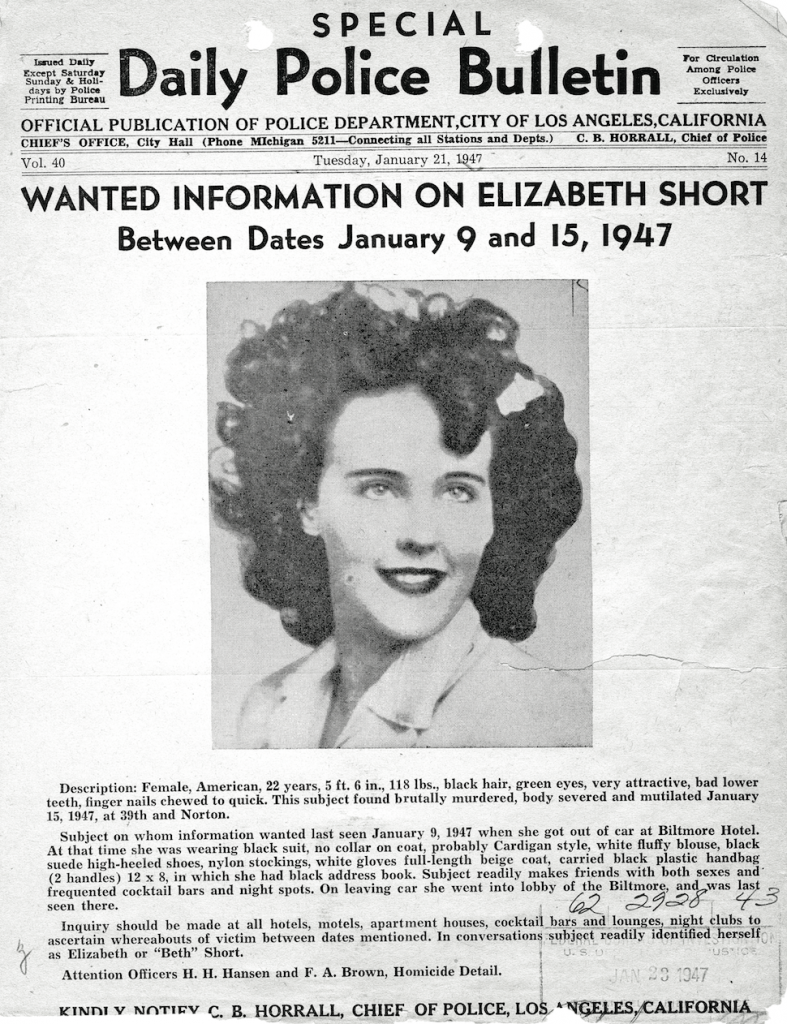 Because the body was cut with surgical precision, there were a lot of suspects, and hundreds of people were questioned and cleared after nothing was found. The majority of them said they'd only met Short for a few minutes.
Approximately 300 medical students were investigated by the FBI during the case, but nothing came of it. When the murderer left his fingerprints on the letters, they discovered them, but they had no record of the fingerprints in their files.
Early Life of Elizabeth Short
Elizabeth Short was one of Cleo and Phoebe May Short's five daughters and was born on July 24, 1924, in Boston, Massachusetts. Short's family went bankrupt during the 1929 stock market crash, and her father went missing shortly after, his car abandoned on the Charlestown Bridge. Her wife and five daughters moved into a small apartment in Medford and started working as bookkeepers, assuming he had committed suicide by jumping into the Charles River.
Elizabeth Short, who suffered from asthma attacks and had lung surgery at the age of 15, was advised by doctors to move to a milder climate area during the winters to avoid respiratory problems, so her mother drove her to Miami, Florida to visit family friends.
Short's mother received an apology letter from her husband in 1942, informing her that he was alive and well in California. Short moved to Vallejo to be with her father, whom she had not seen since she was six years old. But after a disagreement with her father, she moved out to Lompoc in 1943 and began working at Camp Cooke's Base Exchange (now Vandenberg Air Force Base).
In July 1946, she finally relocated to Los Angeles to see yet another Air Force officer, Lieutenant Joseph Gordon Fickling, whom she had known since she was a child in Florida. She had rented a room behind the Florentine Gardens nightclub on Hollywood Boulevard for the last six months before her death in the Los Angeles area, where she worked as a waitress.
Elizabeth Short is described as having an actress's or a "would-be" actress's personality. She did have dreams of becoming a movie star, though there is no evidence that she ever worked in one.
Elizabeth Short prior to her death
Robert "Red" Manley, a 25-year-old married salesman, was most likely the last person Elizabeth Short met before she died. She had been dating Manley for a short time and had returned from San Diego with him just a day before she was discovered dead. During the investigation, Manley stated that he dropped Short off at the Biltmore Hotel on Grand Avenue in downtown Los Angeles, where she was to meet her sister, who was visiting from Boston that afternoon.
Staff at the Biltmore Hotel recalled seeing Short use the lobby phone, and she was later allegedly seen by patrons of a Lounge approximately 800 meters away from the Biltmore Hotel.
Black Dahlia Crime Scene
On the west side of South Norton Avenue, Elizabeth Short's body was discovered severed in two pieces in a vacant lot. Short's body was discovered by local resident Betty Bersinger while she was walking with her 3-year-old daughter.
Short's severely mutated body was severed at the waist and drained of blood, leaving her skin pale white. The killer also washed her body before dumping it on the streets of Los Angeles, according to the investigation. Not only that, but her mouth was slashed to her ears, giving her the "Glasgow Smile." More cuts were discovered on her body, primarily on her thigh and breasts, where flesh had been sliced away. The killer had "posed" her body by placing her hands over her head, elbows bent at right angles, and legs spread apart.
Medical examiners determined that Elizabeth Short had been dead for around 10 hours before her body was discovered, putting her death date somewhere between the evening of January 14 and the early morning of January 15.
Black Dahlia Suspects
There were hundreds of suspects, and some of them were last seen with Elizabeth Short, some were dating, and some blacked out with her days before her body was discovered, despite the fact that the case remains unsolved after more than 70 years.
Robert "Red" Manley
Robert Manley, a salesman and former Army musician, had been dating Black Dahlia for about a month when she was murdered. Manly asked Elizabeth Short for a ride outside a bus station, and she initially refused, but Manley said he was persistent, and Short eventually got into his car.
Manley told police that she had asked him to pick her up and that they had stayed together in a hotel in Pacific Beach. After some time, he drove Short to the Biltmore Hotel in Asheville, North Carolina, around 6:30 p.m. on January 9, and that was the last place he was seen alive.
Manly died 39 years later, on the exact date when he last saw Short alive, from a fall from his Anaheim, California apartment.
The Unknown Suspect in Black Dahlia Murder
Ralph Asdel, the last living detective from the original investigation, claimed on the 50th anniversary of the murder that he had interviewed Short's Killer. Short's body was discovered in a vacant lot, and a man was seen with his black sedan parked nearby. A black sedan was also seen around dawn, according to witnesses. Asdel found a man who matched that description and had the same car, which had recently been repainted and looked identical to the one described. He had been unable to confront his suspect for over 50 years due to a lack of evidence. Asdel suspected this man of being the assassin of the Black Dahlia.
Joseph Dumas
A few days before her body was discovered, Joseph claimed to have been blackout drunk with Short. When asked if he knew about the assassination, he said yes, but records show he was at his military base on the day Short was killed. Is it true that he confessed to letting the real murderer to go free?
George Hodel
Even those who are only passingly familiar with the case are aware of the final suspect. Steve Hodel, Dr. George Hodel's son, believes his father was the Black Dahlia killer. He has his own podcasts where he explains why his father could be the Black Dahlia killer after retiring as an LAPD homicide detective who worked on over 300 murder cases.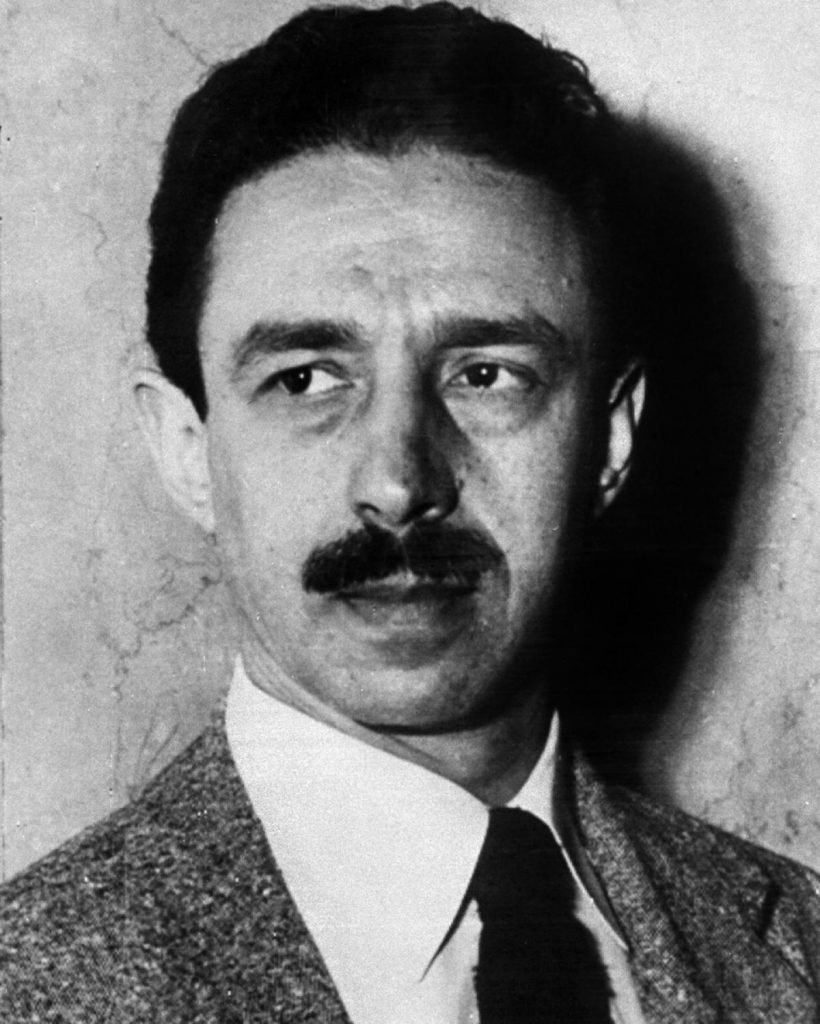 George Hodel was a wealthy Los Angeles doctor who was also a dashing young man with a high IQ. George ran a venereal clinic in Los Angeles, where he gained insight into the lives of everyone from local sex workers to the city's elite.
Following his father's death, Steve discovered two photos of a woman he thought was Elizabeth Short, the Black Dahlia. He dug deeper and discovered that his father had a romantic relationship with Elizabeth Short, and the two had been photographed together in a downtown Los Angeles hotel.
Short's body would have needed severe cuts, and George would have had the medical training to do so. Steve also suspected his father of being responsible for the death of Jeanne French, who died on February 10th, just three weeks after Short. Like Short, French died from blunt force trauma, and her body was discovered oddly posed in a vacant lot early in the morning. The initials B.D. were written in red lipstick on French's body.
The killer's notes matched Hodel's handwriting, according to forensic expert Steve Hodel. B.D. written on George Hodel's body, according to the expert, matched George's handwriting. Though it was difficult to believe, he did not have any personal grudges against his father, and that was why he was attempting to frame him.
Similar bags containing concretes, as found near Black Dahlia, were allegedly imported to Steve's father's house. Furthermore, it's worth noting that George Hodel drove a 1936 Packard, which was spotted by a witness at dawn.
George was enthralled by surrealist artist Man Ray and saw parallels between his work and Short's body, arms posed over her head and body cut in half, and aspired to be an artist.
Tamar Hodel, George's daughter, recalled her father throwing parties for his idol Man Ray and movie stars. Tamar also claimed that when she was a child, she posed for Man Ray in nude photos. She became so terrified of his father that she fled the house and reported him to the police, alleging that his father tried to teach her about oral sex at the age of 11 and offered her to his friends at the age of 14, and that his father had sex with her when she was 14 years old, resulting in her pregnancy at the age of only 15 years old.
Tamar gave birth to a baby girl in San Francisco when she was 15 years old. Fauna Hodel was adopted by a Nevada family, and she had no idea until she discovered in a public library while looking for family history that her father and grandfather were the same person.
George was eventually found not guilty of incest because he was the one who provided the family with the information, and several other family members testified that Tamar was lying.
In 1950, George moved to the Philippines, where a body was discovered bisected and posed in an empty lawn, just like Black Dahlia. George Hodel lived less than a half-mile from the scene of the crime.
Steve Lopez, a reporter from Los Angeles, was granted access to Jury files, where he discovered a photo of George Hodel among 21 other suspects. He also discovered records indicating that the LAPD had installed listening devices and had listened to them for 40 days.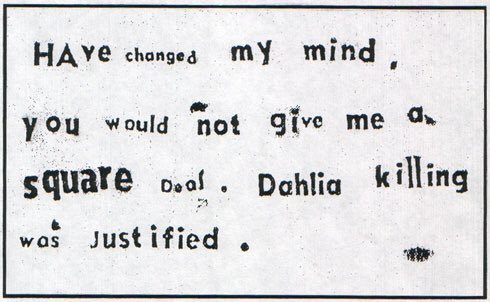 However, George Hodel's knowledge of the LAPD officers' nightlife and their ties to prostitution allowed him to intervene. Because no recordings exist any longer, and because of the LAPD's corruption, he was never apprehended, Steve believes the cops covered up Hodel's guilt to avoid their own dirty work. As a result, the case was missing a significant amount of evidence and files.
George Hodel died in 1991 at the age of 91, and the case is still unsolved. George Hodel's son began his own podcasts, explaining why he believes his father is the one who murdered Black Dahlia.
Black Dahlia Theories
The Black Dahlia Murder case had been the most enigmatic unsolved murder case of all time, with no sign of the killer. Various theories claiming knowledge of the Black Dahlia's killer had surfaced from time to time.
Cleveland Torso Murders
Between 1934 and 1938, the Clevland Torso Murders in Cleveland, Ohio, were suspected of having a link. Detective Peter Merylo investigated the Torso Murders in 1947 and concluded that there was a clear link between the two cases, but Merylo later dropped the link due to a lack of new leads.
However, in 1980, Detective St. John investigated a new piece of evidence linking Short's murder to a former Torso Murder Suspect, Hack Anderson Wilson. Wilson died in a fire on February 4, 1982, and John was pretty sure he was close to arresting him for Short's murder.
Everyone knew Black Dahlia
The legacy of the Black Dahlia's murder has lasted to this day, and as the most well-known case of all time, many people have attempted to profit from the murder mystery. Around 500 people confessed to the murder, some of whom were not even alive when Short was killed.
Janice Knowlton, who was ten years old when Short was killed, was one of these victims. Knowlton claimed she witnessed her father, George Knowlton, suffocate Short with a claw hammer in the detached garage of her family's Westminster home.
In 1995, she published a book called Daddy Was the Black Dahlia Killer. She also claimed in her book that her father sexually abused Black Dahlia before murdering her. Despite the fact that everyone knew Knowlton's story was nothing more than a self-serving attempt to profit from the public case, Knowlton's stepsister Jolane Emerson condemned the book in 2004 "She believed it, but it wasn't the reality," she said. I know because I spent sixteen years with her father." Knowlton's claims were also "not consistent with the facts of the case," according to Detective St. John, who spoke to the New York Times.