The murder mystery of Elizabeth Short that shook Los Angeles still remains unsolved. The crime became the most mysterious case of all time and became popularly known as the Black Dahlia murder case and is the most hotly debated conspiracies in Hollywood.
On 15th Jan 1947 around 11 A.M., Betty Bersinger was taking her three-year-old daughter on a morning errand when she found the body of Elizabeth Short aka "The Black Dahlia" lying in an empty lawn, which she originally mistook for a manikin.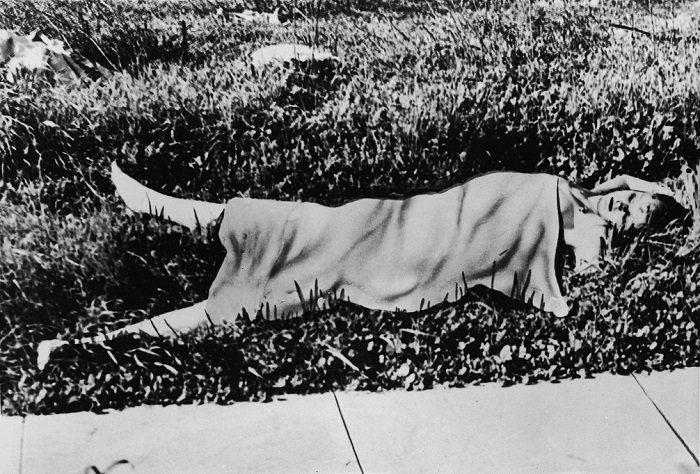 I glanced to my right and, saw this very white dead body. My goodness, it was so white. It didn't look like anything more than perhaps an artificial model. It was so white and separated in the middle.

Betty Bersinger
Short's body was cut in half from the waist below and was posed such that her eyes were open, her hands were above her head and her face was cut up to her ears to make a fake smile like Heath Ledger's joker in 08 Batman's movie. The body was cut with surgical precision as the cuts were clean, leaving no trauma to internal organs and soaked out of blood, leaving her body pale.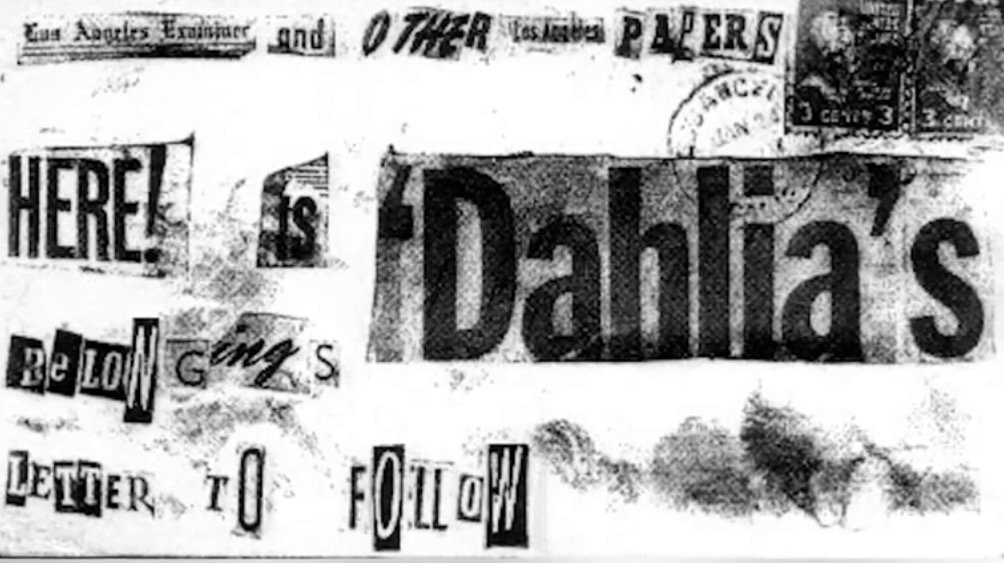 The case was splashed across newspapers nationwide. After her body was found 9 days later an envelope was found at the Los Angeles examiner's office. The envelope contained some of the Short's belongings, it had Short's social security card, birth certificate, photos and an address book that was missing a few pages. The murderer used Gasoline to clean the fingerprints and the letter was addressed using cutout letters taking from movie advertisements. As known, there were 13 letters sent to police taunting them as the investigation unfold, many of them were signed BLACK DAHLIA AVENGER.
Police released the poster searching for Black Dahlia in order to get more information.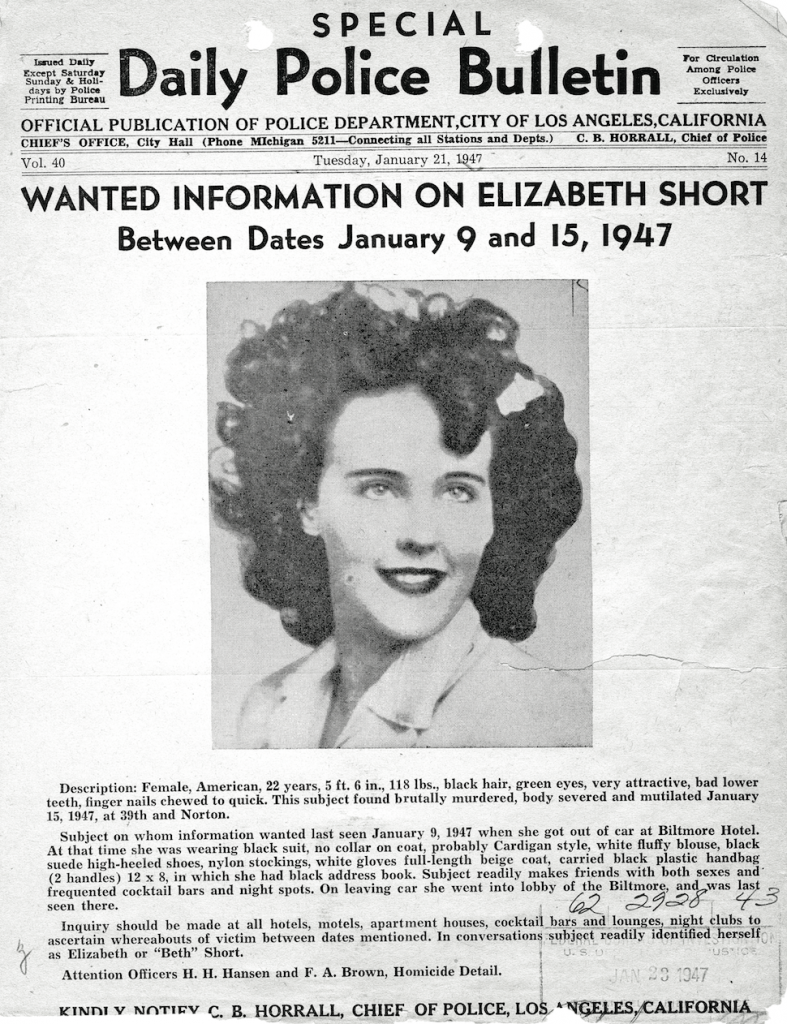 The number of suspects was considerably high as the body was cut with surgical precision and hundred were questioned and cleared when finding nothing. The majority of them said that they'd met Short only briefly.
During the case, the FBI investigated approximately 300 medical students but nothing came out of this. They even found fingerprints once when the murdered left his fingerprints on the letters but they had no record of the fingerprints in their files.
Early Life of Elizabeth Short
Born on July 24, 1924, in Boston, Massachusetts, Elizabeth Short was one of the five daughters of Cleo and Phoebe May Short. During the 1929 stock market crash, Short's family went broke and her father went missing soon after. His car was found abandoned on the Charlestown Bridge. Assuming that he had committed suicide by jumping into the Charles River, her wife along with her five daughters moved into a small apartment in Medford and started working as a bookkeeper.
Elizabeth Short, troubled by asthma attacks underwent lung surgery at age 15, doctors advised her to move to a milder climate area during winters to prevent respiratory problems, thus her mother took her to Miami, Florida to spend time with family friends in winters.
In 1942, Short's mother received an apology letter from her husband, which revealed that he was alive and had started a new life in California. Short relocated to Vallejo to live with her father, whom she saw when she was only 6 years old. But soon, she had an argument with her father, and she moved out to live in Lompoc, in 1943 and started working at Base Exchange at Camp Cooke (now Vandenberg Air Force Base).
There she lived with several friends and specifically with an Army Air Force sergeant, who is believed to abuse her. She moved again, this time to Santa Barbara where she was arrested on September 23, 1943, for underage drinking, and juvenile authorities sent her back to Medford. She returned to Florida instead.
In Florida, Elizabeth met Major Matthew Michael Gordon, who was a decorated Army Air Force officer, and was going to be deployed to the Chine Burma India Theater of Operations of World War II. Short was ready to be married to the officer, but unfortunately he lost his life in a flight crash on August 10, 1945.
She was finally moved to Los Angeles in July 1946, to visit yet another Air Force officer, Lieutenant Joseph Gordon Fickling, whom she had known from Florida. She spent her last 6 months before being killed in the Los Angeles area, working as a waitress, and had rented a room behind the Florentine Gardens nightclub on Hollywood Boulevard.
Elizabeth Short is described as having the personality of an actress or a "would-be" actress. She did in fact have aspirations to be a movie star, though there have been no records of her to had worked in a movie.
Elizabeth Short prior to her death
Robert "Red" Manley, a 25-year-old married salesman was probably the last known person Elizabeth Short had met before her death. She was dating Manley from a short time and had returned from San Diego with Manley just a day before she was found naked,dead. During the investigation, Manley stated that he dropped Short off at the Biltmore Hotel at Grand Avenue in downtown Lost Angeles., and that Short was to meet her sister, who was visiting from Boston the same afternoon.
The Biltmore Hotel's staff recalled having seen Short using the lobby telephone and later she was allegedly seen by patrons of a Lounge approximately 800 meters away from the Biltmore Hotel.
Black Dahlia Crime Scene
Elizabeth Short's body was found, severed into two pieces on a vacant lot on the west side of South Norton Avenue. At that time the neighborhood was largely undeveloped, and Short's body was discovered by a local resident Betty Bersinger while she was walking with her 3-year-old daughter. Bersinger took Short's dead body to be a mannequin severed into two pieces, but she soon realized that it was a corpse, after which she immediately rushed to a nearby house and called the police.
Short's severely mutated body was completely severed at the waist and drained bloody, leaving her skin a pallid white. It was also found that the killer washed her body before dumping it on the streets of Los Angeles. Not only that, but her mouth was slashed to her ears, to create an effect known as the "Glasgow Smile". More cuts were found on her body, mainly on her thigh and breasts where portions of flesh had been sliced off. Her corpse had been "posed" by placing her hands over the head, her elbows bent at right angles and legs spread apart, by the killer.
From determining the Elizabeth Short's body, medical examiners concluded that she had been dead for around 10 hours prior to her discovery, leaving her time of death either sometime during the evening of January 14 on during the early morning of January 15.
Suspects for Black Dahlia
After more than 70 years here are the main suspects to examine, though the case remains unsolved there were hundreds of suspects and some of them were seen last with Elizabeth Short, some were dating and some blacked out with her days before her body was discovered.
Robert "Red" Manley
Salesman and former Army musician Robert Manley was in a relationship with Black Dahlia which began about a month before she was murdered.
Manly was asked Elizabeth Short for a ride outside a bus station, Short denied the first few times but as Manley told that he was persistent and eventually short did get into his car.
Manley told police that she asked him to pick her up and they both stayed in a hotel in Pacific Beach involved platonically. After some time he left Short to the Biltmore Hotel about 6:30 on the evening of January 9 and that is the last place Short was seen alive.
Manley pleaded his innocence when questioned by the police and willingly took two polygraph tests, both indicating that he was telling the truth. Years later doctors gave Manley Sodium Pentothal which at one point thought to be a "truth drug" and questioned him about the case and similar to the last time nothing came up.
Surprisingly Manly died 39 years later to the exact date when he saw Short alive, he died from falling from his apartment in Anaheim, California.
The Unknown Suspect in Black Dahlia Murder
On the 50th Anniversary of the murder, Ralph Asdel, the last living detective from the original investigation claimed that he had interviewed Short's Killer. A man who had been seen with his black sedan parked near the vacant lot where Short's body was discovered. Witnesses also described seeing a black sedan around dawn. Asdal found a man matching that same description who had the same car but recently repainted also looked like the one described. With the lack of evidence over 50 years, he was unable to confront his suspect. Asdel believed that this man was the Black Dahlia murderer.
Joseph Dumas
Joseph had claimed to be blackout drunk with Short a few days before her corpse was discovered. When asked about the killing he said Yes but when checked the records He was on his military base on the day of Short's death. Did he confess to getting the real killer to get off the hook?
George Hodel
The final suspect for the case is known to even those casually familiar with the case. Dr. George Hodel's own son Steve Hodel believes that his father was the Black Dahlia killer. Alter retiring as an LAPD homicide detective, having worked on over 300 murder cases, has his own podcasts where he told that why his father is the possible Black Dahlia killer.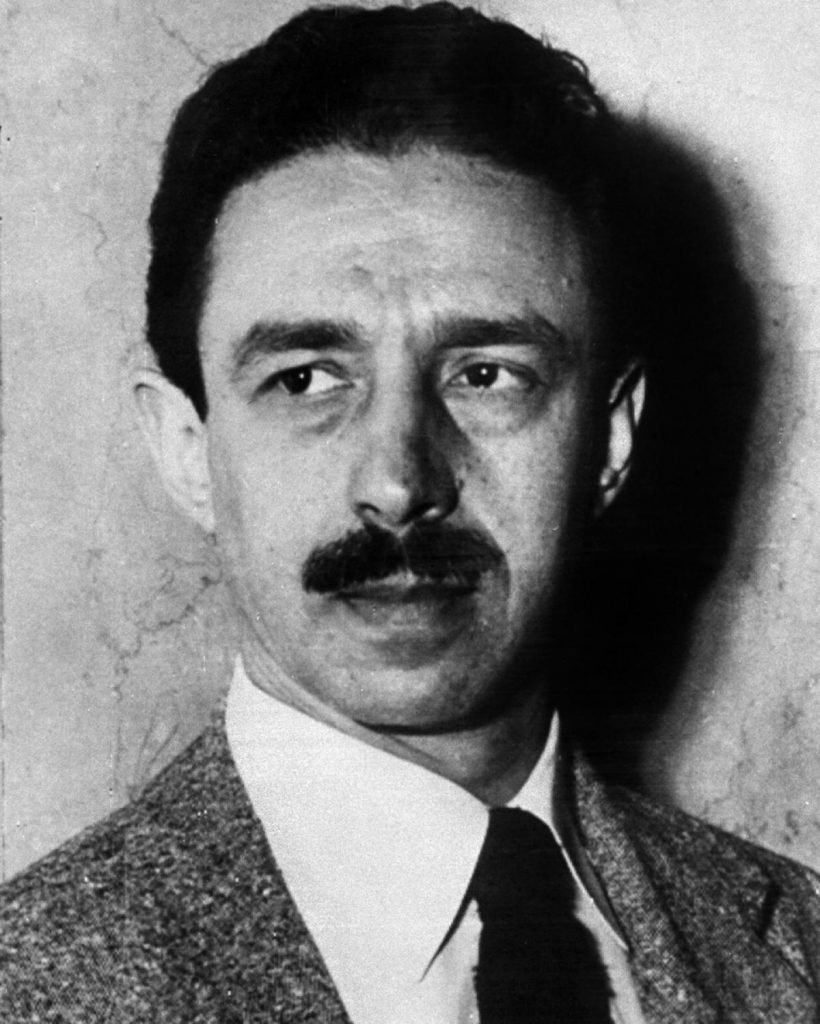 George Hodel was a wealthy doctor in Los Angeles, a dashing man with a high IQ. George was in charge of a venereal clinic in Los Angeles, which gave him knowledge about people's live ranging from local sex workers to the city's elite people.
After his father's death, Steve found two photos of a woman who Steve believed to be Elizabeth Short, The Black Dahlia. He started investigating more and found out that his father had a romantic relationship with Elizabeth Short and they have been spotted together in a hotel in downtown Los Angeles.
George would have had the medical training needed to produce severe cuts on Short's body. Steve also believed that his father was responsible for the death of Jeanne French which occurred a mere three weeks after Short's murder on Feb 10th, similar to Short, French received blunt force trauma and the body was also found oddly posed in a vacant lot early morning. French's body bore the initials B.D. written in red lipsticks.
The notes sent by the killer matched Hodel's handwriting performed by a forensic expert Steve Hodel. The expert also believed that B.D. written on George Hodel's body matched George's handwriting. Though it was hard to believe that he did not have any personal grudges with his father and that is the reason why he was trying to frame his father.
Steve claimed that there were similar bags imported to his father's house with concretes in them, as found near Black Dahlia. What's more, interesting is that George Hodel drove 1936 Packard which was seen by a witness who noticed the car during dawn.
George was fascinated by the surreal artist, Man Ray and had the similarity with his work and Short's body, arms posed over her head and the body cut in half and wanted to be an artist himself.
George's daughter Tamar Hodel recalled her father hosting parties which included his idol Man Ray as well as movie stars. Tamar also claimed that she had posed nude photos for Man Ray when she was just a child. She became so scared of his father that she ran away from the house and reported her father to the police that his father had tried to teach her about oral sex at the age of 11 and offered her to his friends at the age of 14 and his father himself had sex with her when she was 14 years old resulting in her being pregnant at just 15 years of age.
At the age of 15, Tamar gave birth to a baby girl in San Francisco. Her daughter, Fauna Hodel was adopted by a family in Nevada and she doesn't know that story until she discovered in a public library when searching for family history that her father and grandfather were the same people.
George was ultimately acquitted of incest charges as he was the one providing the family and several other family members testified that Tamar was lying.
George moved to the Philippines in 1950 and in 1967a body was found bisected and posed in an empty lawn just like Black Dahlia. George Hodel was living just a half-mile away from where the body was found.
The LA reporter Steve Lopez was given access to Jury files where he saw a photo of George Hodel listing him among 21 other suspects. He also found out records that LAPD planted listening devices and listened to them for 40 days.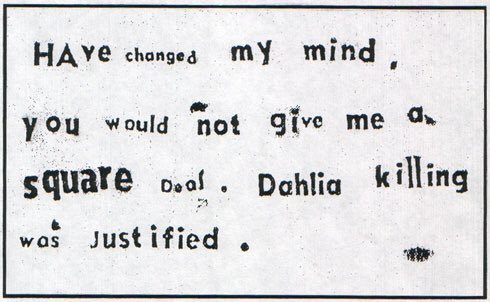 However, due to George Hodel's knowledge about the nightlife of the LAPD officers and their ties to prostitution. No recordings exist anymore and with all the corruption in the LAPD, he was never caught, Steve believed that the police covered up Hodel's guilt to avoid their own dirty things. As a result, much of the evidence and files were missing from the case.
George Hodel died at the age of 91 in 1991 and the case still remains unsolved. George Hodel's son had started his own podcasts telling people why he believes that his father is the one who killed Black Dahlia.
Theories in Black Dahlia Murder case
Black Dahlia Murder's case had been the most mysterious unsolved murder case of all time, without any sign of the killer, numerous theories now and then had surfaced claiming the knowledge of the Black Dahlia's killer.
Cleveland Torso Murders
There was a suspected link betwen Clevland Torso Murders which took place in Cleveland, Ohio, between 1934 and 1938. Detective Peter Merylo studied the Torso Murders in 1947 and believed that there was a definite link between the two cases, but the link was later discontinued by Merylo on the account of no further leads.
But in 1980, a new evidence implicating a former Torso Murder Suspect, Hack Anderson Wilson was investigated by Detective St. John in relation to Short's murder. John was pretty sure and claimed that he is close to arresting Wilson for Short's murder, but Wilson died in a fire on February 4, 1982.
Everyone knew Black Dahlia
The legacy of Black Dahlia's murder carried on to date, being the most popular case of all time, many tried finding personal benefits from the murder mystery. Around 500 people confessed to the crime, and some of which were not even born at the time Short was murdered.
One such case was by Janice Knowlton, who was 10 years old when Short was killed. Knowlton claimed that she have seen her father, George Knowlton, beating Short to death with a claw hammer in the detached garage of her family's home in Westminster.
She later published a book titled Daddy was the Black Dahlia Killer in 1995. In her book, she made additional claims that her father sexually abused Black Dahlia before killing her. Although everyone knew the story narrated by Knowlton was nothing but a selfish act to seek advantage from the popular case, Knowlton's stepsister Jolane Emerson in 2004 condemned the book as "trash" stating that "She believed it, but it wasn't the reality. I know, because I lived with her father for sixteen years." Additionally, Detective St. John told the Times that Knowlton's claims were "not consistent with the facts of the case".
Now that you have read about Black Dahlia Murder mystery, you might like reading about "10 Mysterious Deaths in Hollywood". You might also like reading about "11 Last-Minute Decisions That Changed The World"