Upon being informed about the murder of his ex-wife, OJ Simpson's response was, 'Who killed her?' Despite not having a solid alibi, Simpson claims he was at home during the time of the murder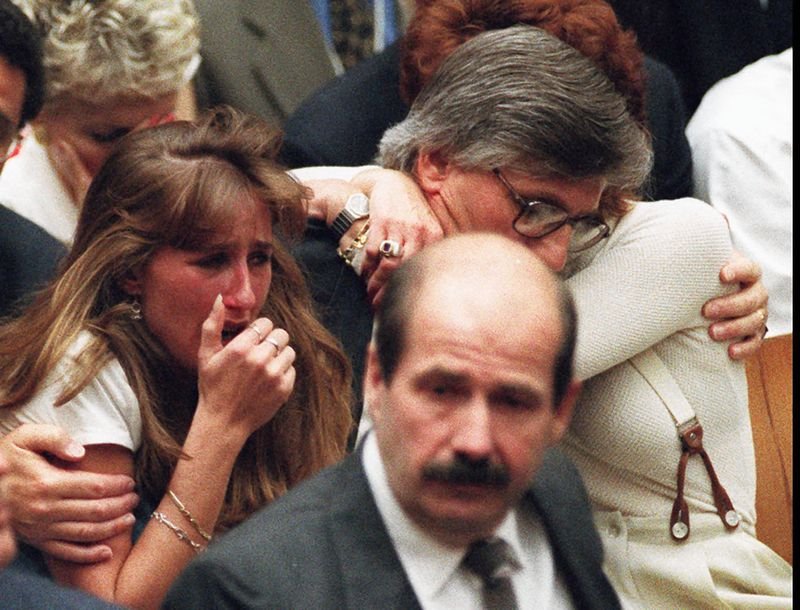 On June 12, 1994, at 6:30 P.M., Nicole Brown's sister contacted Hotel Mezzaluna to report that her mother had left her glasses there. Ronald Goldman, a friend of Nicole Brown, went to retrieve the glasses and while doing so, the neighbor of Nicole Brown reported hearing the dog barking and crying. Upon investigating the barking, the neighbor discovered the gruesome scene of the double murder of Nicole Brown and Ronald Goldman, both stabbed to death. This event led to one of the most expensive trials in American history.
OJ Simpson aka "The Juice"
OJ Simpson, also known as "Juice," earned his nickname due to his energetic runs on the field. His initials also happen to stand for "Orange Juice." Throughout his career, Simpson accumulated a total of 11,236 yards, ranking him second all-time at the time of his retirement.
He is well-known not only for his impressive athletic achievements, but also for his infamy following the high-profile murder trial of his ex-wife, Nicole Brown, and her friend, Ronald Goldman. Despite his legal troubles, OJ Simpson made a name for himself through his hard work and determination, rising from humble beginnings to become a household name.
OJ and Nicole's Marriage
OJ Simpson and Nicole Brown got married in 1985 and had two children together, a son named Justin Ryan Simpson and a daughter named Sydney Brooke Simpson. While the relationship started off well, there were several instances of alleged domestic abuse by Simpson, resulting in nine police visits. In 1989, Simpson pleaded no contest to spousal abuse.
On February 25, 1992, Nicole Brown filed for divorce. Although they briefly reconciled after the divorce, a 9-1-1 call revealed that Nicole Brown was afraid of Simpson. This call marked the final end of their relationship and they did not reconcile again.
He[Simpson] is going to beat the shit out of me.

Nicole Brown on call.
After this incident, their relationship would end for the final time with no getting back together.
The night of the Murder and one suspect — OJ Simpson
This case had no other suspect other than OJ Simpson. At the time of the murders, OJ was scheduled to leave for the airport around 11 am. When looking closely at the timeline of the case, it becomes clear why so many people believed that Simpson was responsible. OJ and his friend, Brian "Kato" Kaelin, returned home from McDonald's at 9:45 P.M. Kato was staying with OJ in his guest house at the time. Allan Park, the limousine driver, arrived to pick up OJ at 10:25 P.M. for a flight scheduled at 11:45 P.M.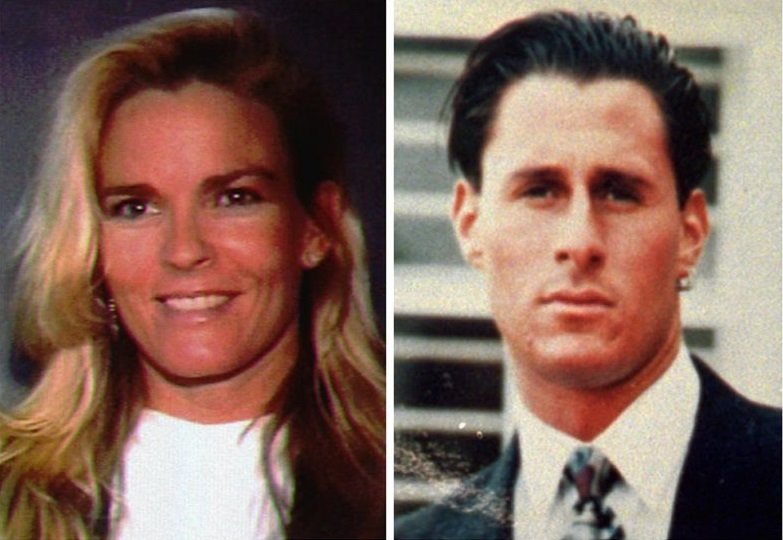 Between 10:40 and 10:55 P.M., Allan Park repeatedly buzzed OJ's intercom with no response. A little before 11 P.M., Allan saw a large shadowy figure, 6 ft. tall and weighing heavy, walking across the driveway. At 11:00 P.M. when he tried to buzz the intercom again, OJ answered and said that he overslept and had just gotten out of the shower. OJ then departed on a flight to Chicago at 11:45 P.M. 25 minutes later, the bodies of Nicole Brown and Ronald Goldman were found.
Evidence against OJ Simpson
The first officer on the scene of the crime noticed a gruesome scene and discovered several pieces of evidence including a bloody glove, a knitted hat, a bloody sock, and a bloody footprint. The detectives searched OJ's apartment early in the morning and found another pair of gloves near the area where OJ's friend had heard loud thumps.
The gloves left at the crime scene and the ones found in OJ's house were an exact match to OJ, Nicole, and Ronald's blood. The knitted hat found at the scene contained hair that was proven to be OJ's by the FBI. The sock contained Nicole's blood. When OJ's flight landed, detective Ron Phillips called OJ to inform him of his ex-wife's death, to which OJ's first response was: "Who killed her?"
The white Bronco chase of 94
OJ Simpson returned home from Chicago and was questioned for three hours by the LAPD, but was ultimately released. On June 17, 1994, a few days later, he attended the funeral of his ex-wife, and the following day, he was charged with two counts of murder. However, he did not surrender to the police and was declared a fugitive.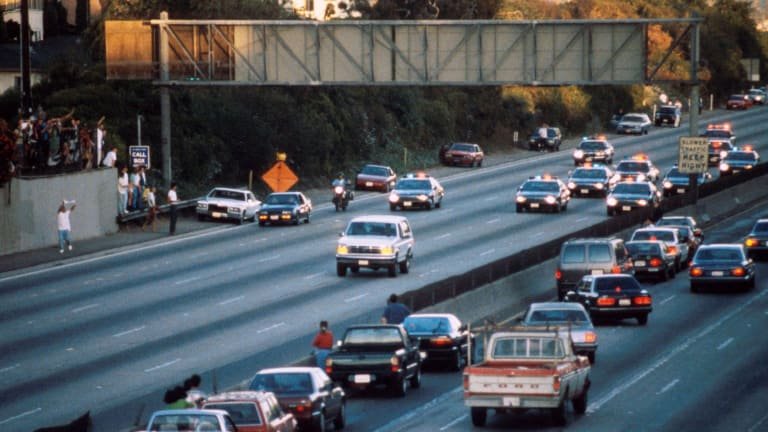 One of the most notable events in the case was the slow-speed police chase of OJ in his white Bronco, driven by his friend Al Cowlings. OJ was in the passenger seat holding a gun to his own head. During the chase, OJ received a call from homicide detective Tom Lange, who attempted to persuade OJ to throw his gun out of the car. However, OJ hung up the call and Lange attempted to call again. OJ replied "Just let me get to my house. Please, I swear to you, I'll give you me. I'll give you my whole body"
The chase ended at OJ's home in Brentwood, where he surrendered to police at 8:51 P.M.
OJ Simpson trial
OJ Simpson himself acknowledged that his legal team, famously known as the "Dream Team," played a crucial role in his acquittal. Despite the DNA evidence found at the crime scene, the defense team successfully argued that the evidence was mishandled and that technical mistakes made by the forensic team cast doubt over its credibility. They claimed that the evidence was not packaged correctly and left in a van to overheat.
Additionally, the defense team had OJ try on the gloves found at the crime scene and argued that they did not fit, suggesting that they could not have been the murder weapon.
"If it doesn't fit, you must acquit"

Simpson's Lawyer
The prosecution team argued that trying on the gloves was not a fair representation as the gloves had been frozen and unfrozen multiple times in order to preserve them and that the gloves had also been covered in blood, causing the leather to shrink when wet.
OJ Simpson Team, The Dream Team
Two years prior to the OJ Simpson incident, the police officers involved in the senseless and horrific beating of a Black man named Rodney King were acquitted of all charges. OJ Simpson's legal team, known as the "Dream Team," used this as evidence of law enforcement racism and argued that the police had rushed to judgment in charging Simpson.
Additionally, the defense team highlighted the past of Detective Mark Fuhrman, who found evidence at OJ's house, and revealed that he had a history of using racial slurs. They presented audio recordings of Fuhrman using racial slurs over 40 times in one recorded session.
Detective Mark Fuhrman was the first one to go to OJ's house after the murders by jumping over the wall of OJ's estate, and in his testimony, he claimed that he alone discovered the other glove of the pair. The defense team argued that Fuhrman planted the glove and other evidence found at OJ's estate. This argument resonated with the jury, which was made up of 8 Black people out of a total of 11.
Despite being acquitted in the criminal trial, OJ Simpson lost the civil case for wrongful deaths, and the jury awarded the families of Goldman and Brown $33.5 million in damages.
Is OJ Simpson free now?
In 2008, OJ Simpson was found guilty of 12 counts, including armed robbery and kidnapping, and was sentenced to 9 to 33 years in prison. On October 1, 2017, OJ Simpson was released from prison after serving 9 years behind bars.
---
Now since you have read about the OJ Simpson murder case, you might like reading about How Nikola Tesla had the key to the universe ? You might also like reading about the Mysterious Ghost Ship SS Ourang Medan.