Neverland was a dream for any kid, the documentary Leaving Neverland accused Michael Jackson of being a pedophile and his property featured hidden bedrooms and secret alarms.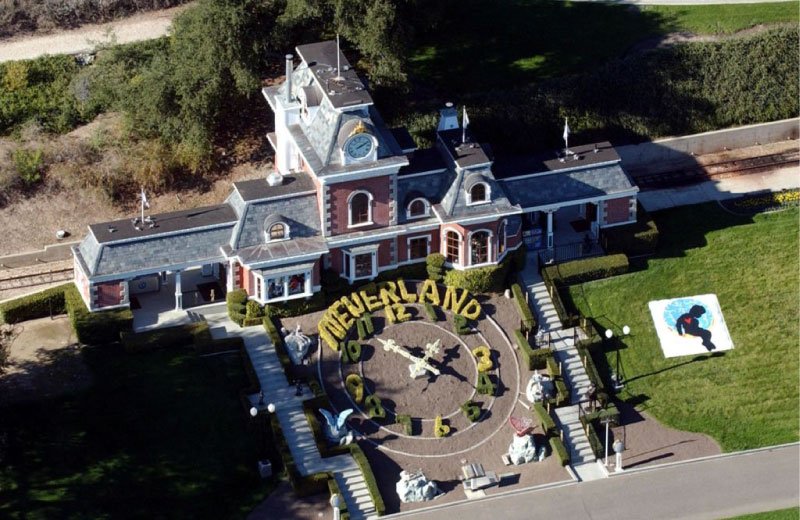 "There's a third-floor attic. It was kind of secluded. You could only get to it from these steep stairs," James Safechuck said of an area in the house that was a secret spot.
While Wade Robson had this to say about Pop King Michael Jackson – "Michael Jackson was one of the kindest, most loving people I knew. He helped me tremendously with my career and my creativity…He also sexually abused me for seven years."
Neverland
Originally named Zaca Laderas Ranch, the estate was renamed to Sycamore Valley Ranch shortly after it was purchased by property developer William Bone in 1981.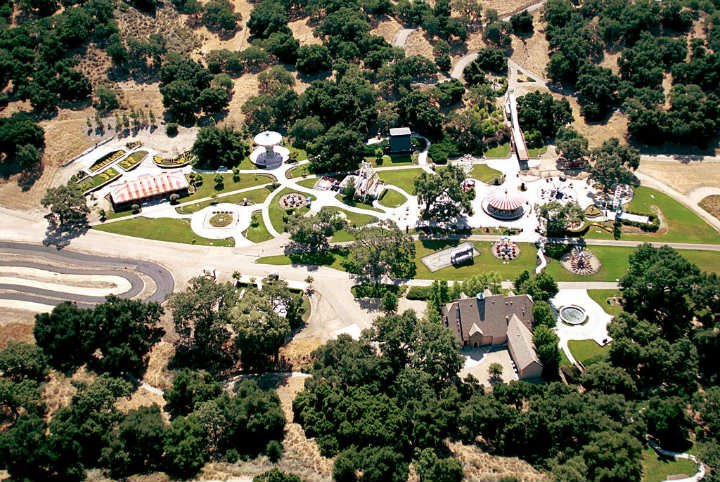 The ranch was sold to Jackson, who then renamed it to Neverland based on the fantasy island in the story of Peter Pan.
Jackson's first encounter with the ranch came when he visited Paul McCartney, who was staying there during their filming of the "Say Say Say" video in 1983. According to La Toya Jackson, Michael expressed interest to her in someday owning the property at that time.
The grand property was designed by Robert Altevers for William Bone and built-in 1982. Michael Jackson initially bought Sycamore Valley Ranch in 1987 for a reported $19.5 million. Michael Jackson took inspiration from the fantasy island in Disney's Peter Pan, about a boy who never grows up.
The main house and amusement park were nestled into the almost 3,000-acre plot of land, and once you entered the front gates of the property from the public road, there was still a ways to go to get to the fun and games.
Since then the place has changed a lot, Jackson went on to create private amusement park and petting zoo in Neverland, Ferris wheel, roller coaster, bumper cars, pirate ship and a carousel for children to hang out.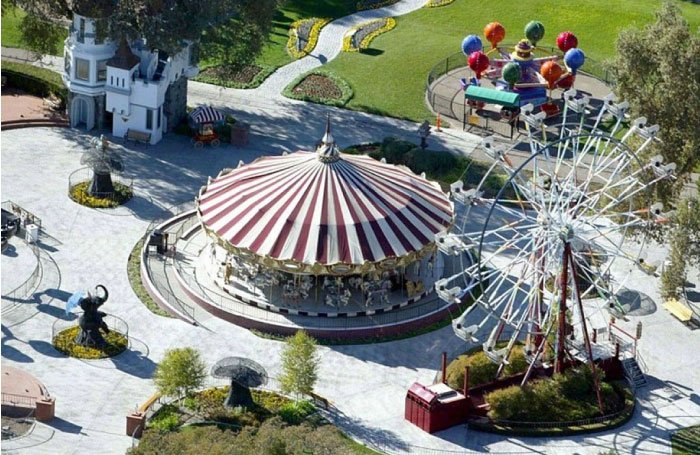 It's a gated estate that features six bedrooms, a pool house, sprawling immaculate gardens, and even a zoo. It also has a four-acre lake, stunning mountain views, and three guest houses.
Elizabeth Taylor and her seventh husband Larry Fortensky choose the ranch as the venue for their wedding in 1991.
The house was shown in Living with Michael Jackson when Journalist Martin Bashir interviewed Jackson in his home.
Jackson stayed at the house for 15 years but the fairy tale of the Neverland came to an end when police searched the ranch in connection to the child molestation allegation against him in the year 2004.
Child Molestation Allegation charges
During the later part of Michael's career, he faced many allegations that he molested young boys, which led to Police investigating him in 1993 and again in 2005.
Accusation of 1993
In the summer of 1993, when Jackson was touring to support his album, "Dangerous," the Los Angeles dentist and screenwriter Evan Chandler publicly accused American singer Michael Jackson of sexually abusing his 13-year-old son, Jordan Christopher "Jordy" Chandler.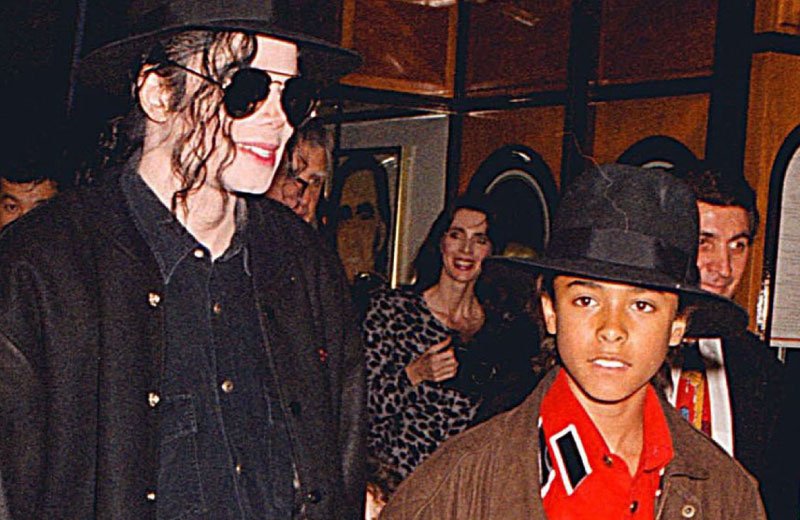 LAPD began investigating claims that Jackson had molested 13-year-old Jody. Police executed search warrants for his ranch in Santa Barbara County, California, police sized the videotapes but found no incriminating evidence.
When Jackson was on his tour in Moscow, Jordy's parent sued the star on 14 Sept. saying that Jackson had "repeatedly committed sexual battery" on their son. He also accused for having oral sex on the boy and masturbated him.
Anthony Pellicano, Jackson's private investigator called the suit part of an extortion attempt. "A demand for $20 million was made and presented," he said. " It was flatly and consistently refused."
A few years later Anthony, known as top Hollywood "fixer," was accused of making death threats against journalists, and in 2008 he was sentenced for 15 years in prison for illegal wiretapping.
As the case drew headlines, Wade Robson, a 10-year-old boy told the news about harmless "slumber parties" in Jackson's bedroom. As prosecutors continuing to pursue a criminal case, another boy, James Safechuck, who had appeared with Jackson during a Pepsi Cola advertisement, gave sworn testimony on Jackson's behalf.
Michael Jackson was strip-searched by police at Neverland, up to the extent that photographs were taken of his genitals, to match the description given by the boy to the police.
Jackson denied all the accusations and excoriating to the news media by saying: "I am not guilty of anything, it is of giving all that I gave to give to help children all over the world."
The case settled in January 1994, with Jackson paying $23 million, with $5 million going to the family's lawyers. Prosecutors dropped the criminal case after the boy declined to cooperate.
Living With Miachel Jackson
Case files state that the relationship between Jackson and Jordan began in February 1993, but other sources cite May 1992. Jordan's stepfather, car dealer David Schwartz, introduced Jordan to Jackson after Jackson rented a vehicle from Schwartz's dealership.
Sharing Bedroom
The documentary included footage of Jackson holding hands and cradling a young teenager, then identified a cancer survivor and says that they share a bed. Both the boy and Jackson denied that anything unexpected is going on.
"My greatest inspiration comes from kids," Jackson says to Bashir indignantly, while holding onto the child. "It's all inspired from that level of innocence, that consciousness of purity."
In February 2003, the documentary "Living with Michael Jackson" aired in Britain and the United States. The documentary was nothing short than calling the trouble home for Jackson.
After the documentary aired, Jackson issued a statement denying any wrongdoing and saying that he is "devastated" by Bashir's portrayal of him.
The documentary sparked a criminal investigation and as a result, Jackson was arrested on charges of child molestation but does not straight-way disclose details of the charges or identify the victim.
Jackson's lawyer, Mark Geragos called the charges "a big lie," Jackson paid $3 million in bail on the same day and surrendered his passport. Jackson was allowed to go free as he awaited trial.
Jackson is eventually indicted on 10 criminal counts, including child molestation, abduction, false imprisonment and extortion.
Molestation Trial
The trail was covered by global news media who paid close attention to Jackson's erratic behavior, like arriving in floral pajamas.
The cancer survivor boy from the documentary, Gavin Arvizo, was 14 at the time of the trial, testified that Jackson had masturbated him. His brother said that he witnessed the abuse.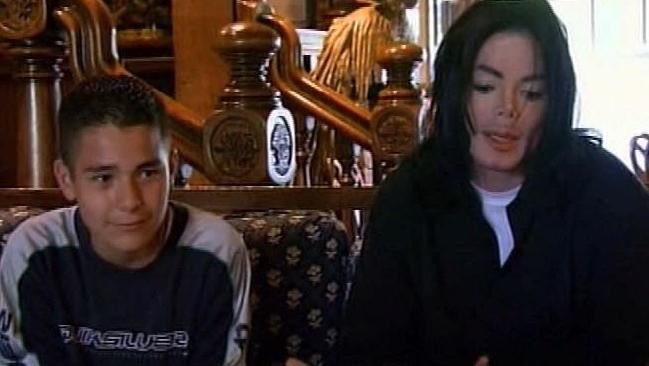 His brother collaborated his claims that Jackson had shown them both pornography and served them wine, calling it "Jesus Juice."
Blanca Francia, the former housekeeper said she had seen Jackson taking a shower with Wade Robson, the young man who had spoken to the media in support of Jackson in 2003. Francia's son also alleged that Jackson had molested him.
Gavin's mother also appeared as a witness, whose testimony was described as "combative and rambling" by BBC.
Jackson's legal advisors depicted Gavin Arvizo as the main point of the case and his family as rehearsed grifters, and a few observers who had been close with Jackson as kids — like the on-screen character Macaulay Culkin, at that point 24 years of age — stood up to deny any maltreatment.
Robson, by this point a choreographer for stars like Britney Spears, affirmed that he had gone through the night at Neverland in excess of multiple times however that Jackson had never molested him or showered with him.
After a trial that had a circus-like atmosphere and whose proceedings seemed to sometimes be upstaged by Jackson's antics (including showing up late in pajamas on one occasion), the singer was acquitted of all charge.
Death of an Icon
The pop king was found unresponsive at his home in Holmby Hills, California. His family released a statement saying that it is believed that he died of Cardiac arrest.
Wade Robson and James Safechuck
Robson who repeatedly defended Jackson changed his statement in 2013 and said that Jackson molested him for seven years. He said in an interview that "brainwashing" by Jackson had led him to testify on the star's behalf.
Two years later, in May 2015, a judge in Los Angeles County Superior Court, Mitchell L. Beckloff, dismissed Robson's suit against the estate, saying that he waited too long to file his claim.
Safechuck documented his own suit in 2014, saying that Jackson had mishandled him "hundreds" of times from 1988 to 1992, starting when a 10-year-old Safechuck — and his mom — went with Jackson on his "Terrible" show visit.
As per his grievance, Jackson kissed Safechuck's private parts and gave him gems as remunerations for performing sexual acts. His case was likewise excused. The two men's suits are under intrigue.
In December 2017, the same judge, Beckloff dismissed the rest of Robson's suit, filed against Jackson's two companies, MJJ Productions, and MJJ Ventures, because the two corporations could not be found liable for Jackson's alleged behavior. Notably, neither of these judgments addresses the credibility of Robson's accusations.
Leaving Neverland
On Jan. 25, "Leaving Neverland," a two-part, four-hour film by Dan reed, with Robson and Safechick describing accusations of abuse in great detail aired on HBO.
Jackson's estate filed a suit against the network, claiming that damages could exceed $100 million. Its petition was: "Michael Jackson is innocent. Period."
"In producing this fictional work," the suit continues, "HBO ignored its contractual obligations to Michael and his companies by disparaging both him and the Dangerous World Tour that HBO had previously profited from immensely." The estate also calls Robson and Safechuck "two admitted perjurers," and accuses them of "practicing their stories and rehearsing their lines … for years now."
As a result, 2 weeks after Leaving Neverland aired on HBO, Louis Vitton made the distance from the late pop icon, whose signature looks had helped inspire much of its fall 2019 menswear collection.
The fans of Pop Icon believe that Miachel Jackson was living his lost childhood and sued "Leaving Neverland" multiple times. No charges had been proven
As of 2019, the ranch is owned by Colony Capital and has been for sale for several years. The ranch is located about 5 miles (8 km) north of unincorporated Los Olivos, and about eight miles (13 km) north of the town of Santa Ynez. The Chamberlin Ranch is to the west, and the rugged La Laguna Ranch is to the north. The Santa Barbara County Assessor's office says the ranch is approximately 2,700 acres (1100 hectares).
Now that you've read about Michael Jackson's Neverland, read about Top 10 expensive houses in the world and you might also like Mysterious deaths in Hollywood which have no explanation.