Joyce Vincent's death went unnoticed for over three years while her body laid undiscovered in her apartments. Her death is believed to be the result of an asthma attack or complications from a recent peptic ulcer.
No one tried to contact Joyce Vincent
Strangely, no one tried to contact her. According to her friends and people she knew, she had cut off nearly all contact with those who knew her.
Joyce's friend noted her as someone who fled at signs of trouble, who walked out of jobs, if she clashed with a colleague, and someone who moved from one flat to the next all over London. She didn't answer the phone to her sister, and didn't appear to have her own circle of friends, instead relying on the company of relative strangers who came with the package of a new boyfriend, a colleague or a flatmate.
Joyce Vincet quit her job and moved to a shelter house
But Joyce wasn't the same; at 25, she made a lot of friend and was videotaped in the backstage audience at the 190 Winbley Concert, Nelson Mandela, International Tribute For a Free South Africa.' (National BFI Archive) She allegedly met Mandela at the concert and shook his hand.
In 1985 she began working as a secretary at OCL in the city of London. Later she worked for Ernst & Young in the Treasury Department for four years before resigning in March 2001 for unknown reasons. She resigned from her job in 2001, at the age of 36.
She began to distance herself from her family shortly after spending some time in a domestic abuse shelter in Harinery and working as a cleaner in a budget hotel. Joyce's friend stated, "She distanced herself from her family, but there was no fight; they were a really nice family." We know she was in a relationship and had a history of domestic violence.
Neighbours assumed the flat was empty.
Joyce Vincent lived in a Housing Trust flat above the shopping district in Wood Green, North London. Her neighbours were unaware that the flat was occupied. They had assumed that the falt was unoccupied, and the odour of the decomposing body had been attributed to nearby waste bins for more than two years. The window in Vincent's flat did not allow direct access to the inside.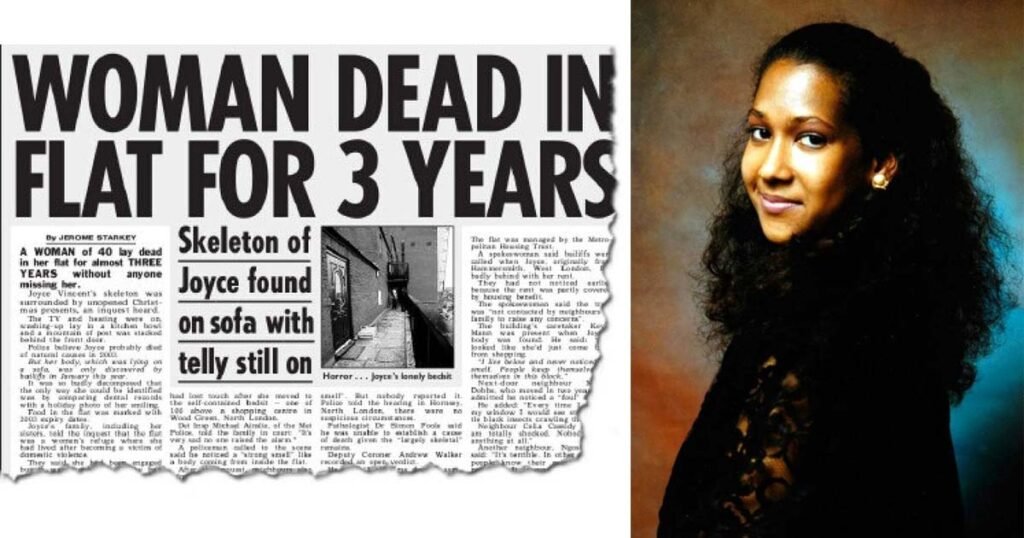 As for the TV, it was a noisy neighbor, which is why no one questioned the constant noise from the television, which remained turned on until she was discovered dead.
Rent: Benefit agencies paid half of her rent automatically to Metropolitian Housing Trust, leading officials to believe she was still alive. The housing officials decided to repossess the property after the total due totaled £2,400.
Her body was discovered on January 25, 2006, when bailiffs forced their way into the flat. Due to debt forgiveness and her bill being paid automatically, the television and heating were turned on.
According to the Housing Trust, arrears were not realised until much later because housing benefits covered the cost of rent for some time after Vincent's death. The trust also stated that no neighbors or visitors expressed any concerns during the three years between her death and the discovery of her body.
Before her death, in November 2003, she was admitted to North Middlesex Hospital for two days after vomiting blood due to a peptic ulcer.
Death of Joyce Vincent
The cause of her death is unknown, but it is speculated that she had asthma and a peptic ulcer at the time of her death. As a result, some speculate that her death was caused by an asthma attack or complications related to her recent peptic ulcer.
A pathologist described her remains as "mostly skeletal," and she was lying on her back next to a shopping bag, surrounded by Christmas presents she had wrapped but never delivered. The gifts, on the other hand, were not given to anyone. The refrigerator in her bedsit apartment, which contained ror with an expiry date of 2003.
Post mortem couldn't be conducted
Joyce Vincent's remains were too decomposed for a full post-mortem, so she was identified using her dental records. She died of natural causes, ruled by police, because there was no evidence of foul play. There was no sign of a break-in and the front door was double locked. She reported having a boyfriend at the time of her death, but the police were unable to locate him.
No one in the neighborhood would have assumed that someone lived in the flat, and the odour of decomposing tissue was attributed to nearby waste bins.
Fact Check: A story has been going around the internet about a woman who was discovered skeletonized in her London flat after being dead for three years. – Joyce Vincent, indeed, was the lady.
In 2011, a film about Vincent Joyce was released. Carol Morley tracked down and interviewed people who knew Vincent. They described her as a lovely, intelligent, and socially active lady.
Throughout her life, she met Nelson Mandela, Ben E. King, Gil Scott-Heron, and Betty Wright, spoke on the phone with Isaac Hayes, and dined with Stevie Wonder.
---
Now you've read about the case of Joyce Vincent, you might also like to read about Mary Resser; The Bizarre Death Of Mary Reeser; The Curious Case of Human Combustion