With the motto, "Look Good, Feel good and Do good," a teacher in Charleston, South Carolina is teaching some of his students some valuable life lessons.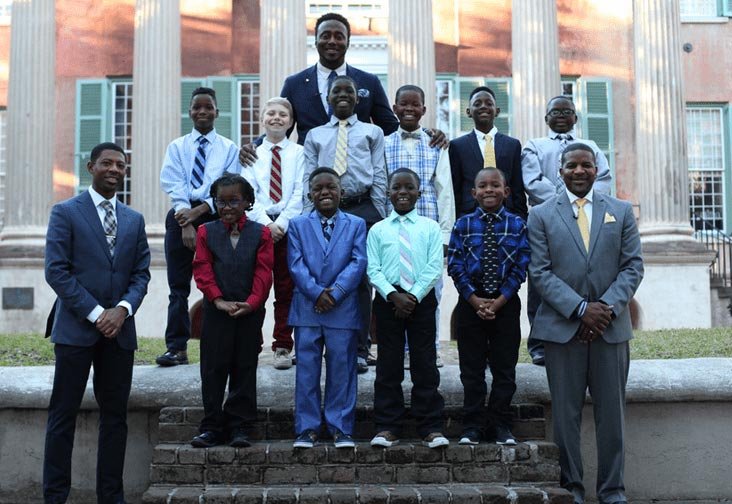 Every week on Wednesday, 60 elementary school students dress in their Sunday's best for success and meet for the Gentleman's club.
It can be difficult for young children to find a safe place to grow and learn. However, without a positive role model, it becomes more difficult for some. Not having a positive role model often leads to them making a lot of mistakes and bad decisions that can hurt them in the long run.
Raymond Nelson, the support specialist at Memminger Elementary School, noticed a problem in his community and decided to do something about it.
Raymond, who works with at-risk children, had an idea over winter break to teach his students life lessons. "I was thinking maybe I have to dress the boys for success," he said, "When was the last time you saw someone fighting in a tuxedo?"
"I know a lot of them struggle because a lot of them don't have men at home, so I just want them to grow up and think of the things that I teach them," Nelson added. "They like the reaction of walking up to classrooms and say, 'Oh, you look so nice and handsome,' they just love it."
The better children are able to think for themselves and make their own decisions, the better their lives will be. Because childhood impacts the most, what they do early on can drastically affect the course of their lives. "A lot of my students perform well when they know someone is concerned about them," Nelson said.
The Gentleman's club was created to inspire, influence, and empower young men to focus on their life's purpose which will help them become productive and effective citizens in the world.
Nelson keeps an extra stack of his own to ensure that none of the students miss out if they don't have proper attire. "I know a lot of them struggle because a lot of them don't have men at home, so I just want them to grow up and think of the things that I teach them," said Nelson.
And, while they're rushing to get dressed up, Nelson claims they're still at the stage where they're running away from girls.
Nelson told WCSC-TV that he bases his lessons and examples on how they would treat their sisters, mothers, and teachers because some of the younger boys still believe that girls have "cooties." Every week, they talk about a different topic, such as how to shake hands, make eye contact, and address their elders.
The club's motto is "Look good, feel good, do good," and that is exactly what happens, as the children learn everything from how to properly shake hands to making strong eye contact during conversation, all in order for them to succeed. "It helped me to be a better man and I could spread the knowledge to the young boys," Raymond said.
"A gentleman is a nice person that helps people," said one of the students, when asked what gentleman means.
This isn't Nelson's first rodeo with the gentleman's club. His mother also made him join a similar group when he was a child.
#WhatsTrending: S.C. teacher creates "Gentlemen's Club" to teach students life lessons https://t.co/vJ97FqcwiA pic.twitter.com/0DRP8B9Wdh

— WSMV News4 Nashville (@WSMV) February 26, 2016
Since the club began to expand, Raymond renamed it "Boys With A Purpose." The only thing that has changed over the years is the name; the family environment and the encouraging lessons have not.