A waitress from Florida was concerned that a boy was in trouble, after she noticed his parents withholding food from the boy – she secretly flashed notes at him in order to see if he needed help.
The owner of Mrs. Potato Restaurant praised her employee for her quick thinking and for saving the boys' life.
SEE SOMETHING, SAY SOMETHING: We talked with an Orlando Restaurant Manager who saw a family withholding food from a boy at a table. She noticed bruises on his body and created a sign to secretly ask the child if he needed help. When he signaled "Yes" she called us. pic.twitter.com/U8m9MG1KUN

— Orlando Police (@OrlandoPolice) January 14, 2021
When Flaviane Carvalho made the first sign, she asked him, "If he was okay?," he nodded yes, but she wasn't convinced and a couple of minutes later she showed him another sign that said "Do you need help? Ok" to the boy, he nodded yes. Flaviane decided to contact the Orlando Police department.
Flaviane said that family came like a regular "family" but "I observed that the boy was denied food, it was the first thing that got my attention." When she tried to ask the boy if something was not right, the boy's father told her that everything was fine and the boy was going to eat dinner at home after they left.
Carvalho noticed that the boy had scratches and bruises and that he was the only one who was not eating the food. "When I looked to the boy I saw a big scratch between his eyebrows, I started observing them and I could (tell)" that he was super quiet and sad."
Carvalho, who has an 18-year-old daughter herself, used a handwritten sign to get the boy's attention. She wrote "Do you need help? Ok" and stood silently behind his parents where they couldn't see. After several attempts, the boy said yes, and the police were immediately called.
Carvalho's call with 911 was released on Thursday afternoon. "I'm super concerned and I don't know what to do, can you give me some advice? What can I do?" she asked the dispatchers, "The boy is with bruises, and he's not eating."
Soon the police arrived and the boy's stepfather, Wilson was arrested and charged with one count of third-degree child abuse. This isn't the first time Wilson is arrested, he was arrested on January 6 and charged with multiple counts of aggravated child abuse and child neglect.
The boy's mother, Kristen Swan was interviewed, who admitted to knowing about the abuse and failed to seek medical care of her son. She was also arrested on Jan. 6 and now faces two counts of child neglect for failing to report the abuse.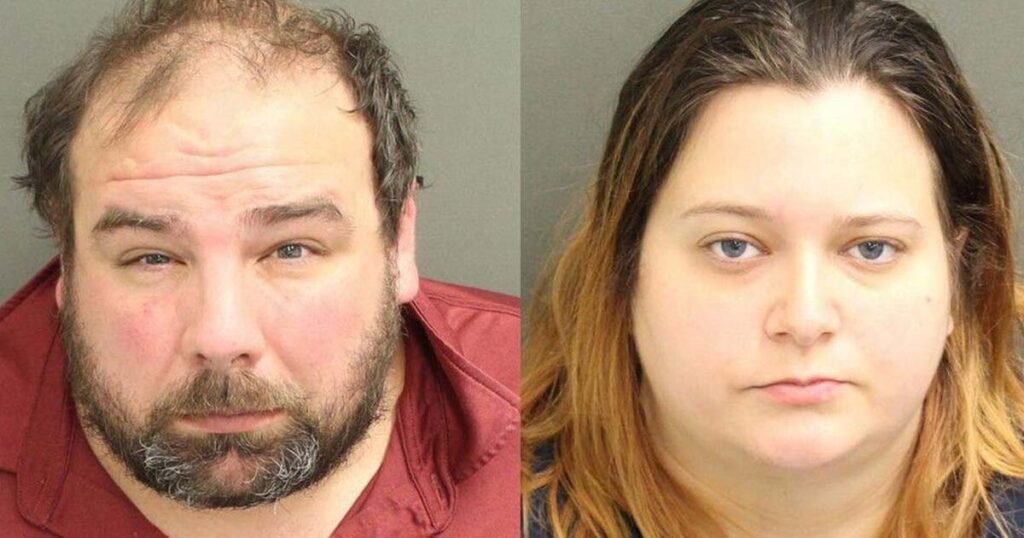 Not only the boy was underweight for his age, "That child was destined to be killed, that's how severe the injuries were. That's how the horrific recollection of the abuse the child shared with us was." said the police chief Orlando Rolón.
Police said the boy was forced to do planks for 30 minutes at a time. If he failed, he would be beaten, this was the slightest of the boy's problem, police described what he endured as torture. "He(the boy) said ratchet straps were tied around his ankles and neck, and he was hung upside down from a door. He said he was hit with a wooden broom and handcuffed and tied to a large moving dolly. He also told that he didn't get to eat on a regular basis as punishment."
As a result the couple 4-year-old child was also removed from the home and both children are in the custody of Florida Department of Children and Families.
In the new conference on Thursday even OPD Special Victims Unit Det. Erin Lawler became emotional, she said "If Ms. Carvalho would not have said something when she was it, that little boy would probably not be with us, much longer."
The owner of Mrs. Potato praised her employee "We are extremely proud. This has to encourage people that if you see something, say something."
Carvalho said she just wants to give the boy a big hug if she could see him again.
---
Now that you've read about Flaviane Carvalho, read about Zaevion Dobson, who died shielding teenage girls from bullets