According to a police report, two men were arrested in Arkansas this week after allegedly taking turns shooting each other while wearing a bulletproof vest.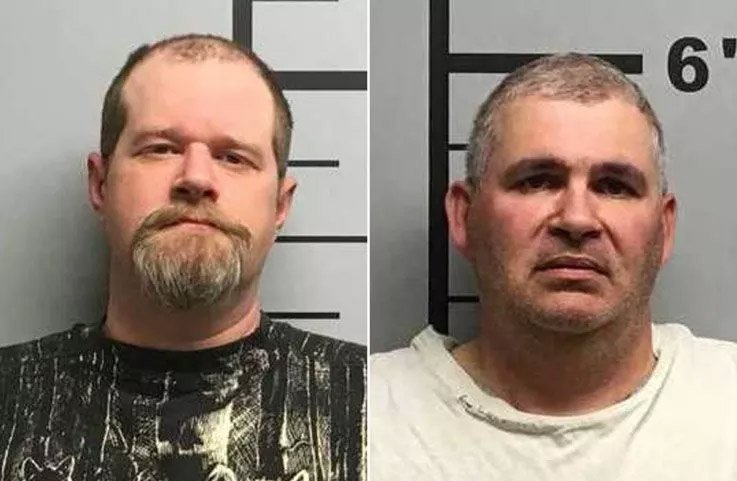 Charles Eugene Ferris, 50, and Christopher Hicks, 36, were arrested on Monday following the incident, which occurred on Sunday and alarmed one neighbor. An arrest affidavit obtained by the Northwest Arkansas Democrat-Gazette contained details about the case.
On Tuesday, April 2, they were released from the Benton County Jail on a $5,000 bond and given a no-contact order.
According to the affidavit, Ferris was interviewed by a deputy with the Benton County Sheriff's Office after he was admitted to the hospital late Sunday night. According to police, the man had a red spot on his upper chest but attempted to fabricate an elaborate cover story for the injury.
According to 5News (KFSM-TV), Ferris claimed that a "asset" paid him $200 for protection. He claimed the pair met another man around 10 p.m. and got into a gunfight.
The 50-year-old told the deputy that he had been shot multiple times but had returned fire and fled in a car. He claimed that the so-called asset drove him to the hospital. Later, he admitted making up the story to protect his friend, according to the Northwest Arkansas Democrat-Gazette.
The man's wife, Leslie Ferris, had a different version of events. He had been drinking outside their home with his neighbor Hicks when gunfire erupted, she told police. The couple's home is in Rogers, a city in Benton County.
When investigators confronted him, the husband changed his story. He confirmed they were drinking and playing with a bullet-resistant vest, according to the affidavit.
Ferris concocted an elaborate story to conceal the truth. According to the affidavit, he claimed that someone from the edge of a tree line began shooting at him and the "asset" on Highway 12.
Per the affidavit, Ferris changed his story about the incident and stated that he did not want to get Hicks in trouble, so he made up his previous story.
He then told police what had really happened, claiming that he had been drinking on his back deck with Hicks and that he wanted Hicks to shoot him while wearing the vest.
According to the affidavit, Hicks shot Ferris with a.22 caliber semi-automatic rifle. The bullet struck the top left corner of the vest, deflecting it but leaving a red mark.
According to KARK-TV, Ferris claimed he was "pissed" about the injury and then "unloaded the clip" on Hicks, who was by this point wearing the vest. The friend was hit in the back five times. Fortunately, none of the bullets penetrated the material.
One nearby neighbor told 5News that he was worried about his children. "I have three children, two of whom are still living at home… right next to them. They can fire up to 100 rounds at a time. I just want to make sure it's not left hanging with no charges."
"Something has to be done about it. If nothing is done, it is possible that someone will be seriously injured. Perhaps someone who is not on their property, "He continued.
Both Ferris and Hicks were arrested on suspicion of aggravated assault, a Class D felony punishable by up to six years in prison and a $10,000 fine, according to 5News.
No formal charges have been filed, and the pair was released on $5,000 bond yesterday. According to local media, the two men are scheduled to appear in a Benton County court on May 13 for a hearing at 8 a.m.
---