Tesla has unveiled its first electric pickup truck, delivering on a promise by Elon Musk to build an Electric version of America's favorite vehicle. "Cybertruck" is developed from ultra-hard stainless alloy, the same alloy will be used in the starship rocket. This Tesla bad boy can go from 0-20 in 2 seconds and can withhold the 9-millimeter bullet. The design is inspired by the Lotus Espirit S1 from the James Bond film, The Spy Who Loved Me. Though the vehicle can turn into a submarine, Cybertruck doesn't have that capability yet.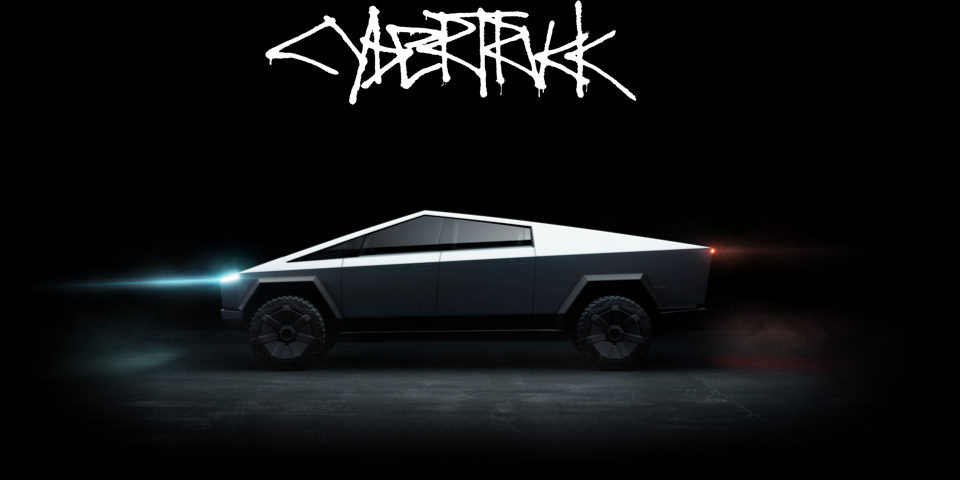 "We need sustainable energy now. If we don't have a pickup truck we can't solve it. The top 3 selling vehicles in America are pickup trucks. To solve sustainable energy we have to have a pickup truck" Elon Musk said at the event
Better utility than a truck with more performance than a sports car

CYBERTRUCK TAGLINE
Exoskeleton
Cybertruck is built with an exterior shell made for ultimate durability and passenger protection. starting with a nearly impenetrable exoskeleton, every component is designed for superior strength and endurance, from Ultra-Hard 30X cold-Roller stainless steel and structural skin to Tesla armor glass.
The ultra-hard 30X cold-roller Stainless steel helps eliminate dents, damage and long-term corrosion with a smooth monochrome exoskeleton that pits the shell on the outside of the car and provides the passenger maximum protection.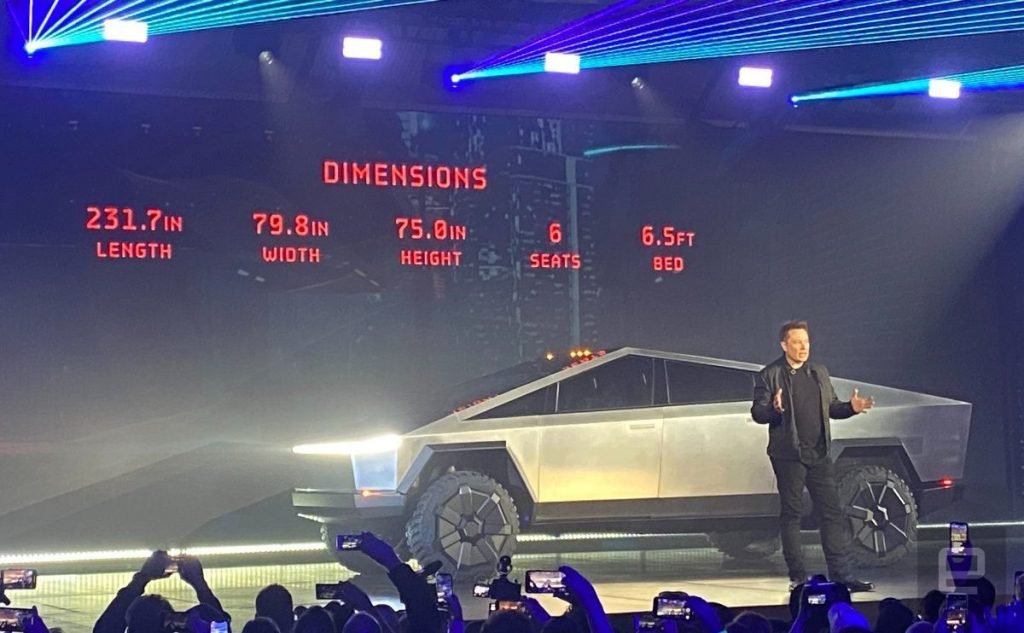 In addition to the protection, the car has an adaptive air suspension. The rear is 100 cubic feet, six and a half footbed length, up to 3500 pounds of payload and can tow 14,000lbs.
There are three versions of the Cybertruck available.
Single motor rear-wheel drive with 250 miles of range with 7,500-pound towing capacity and 0-60 mph in 6.5 seconds, for just $39,000.
Dual motor all-wheel drive with 300 miles of range, 10,000-pound towing capacity, and 0-60mph in under 4.5 seconds for an additional price of $10K making the model cost $49,000.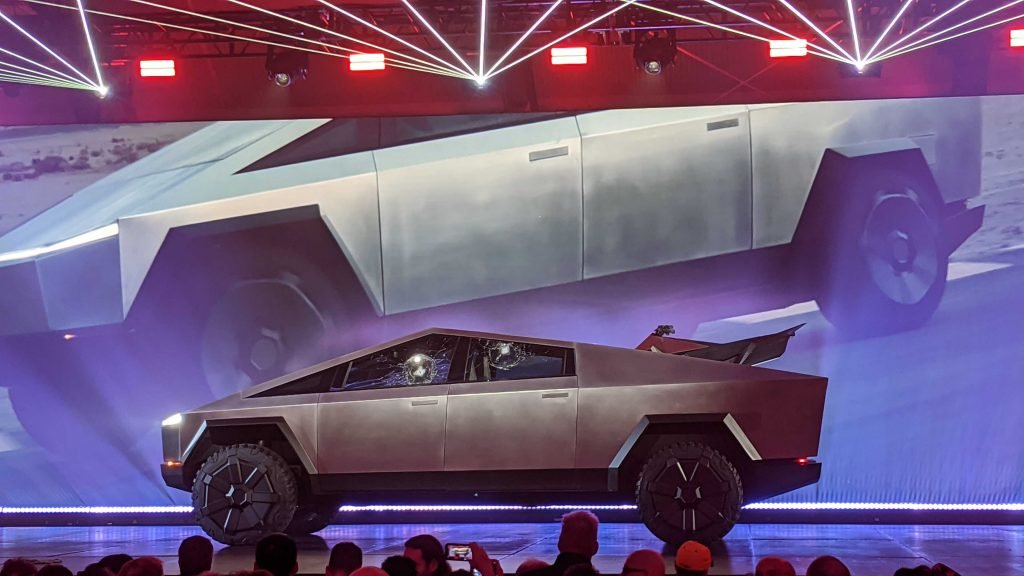 The fastest with triple motor all-wheel drive with 500 miles of range, 14,000-pound towing capacity and 0-60 in under 2.9 seconds for $69,000.
Thought the fastest and expensive version won't start production until late 2022. However, Tesla is taking pre-orders now of the other two models. The option for self-driving trucks will cost the customer an additional $7,000.
However, the Tesla CEO had the desire to produce a pickup truck in April 2017, before the first Model 3 had been handed over to customers and the CEO had entered production hell. It is unclear how much demand will be there for an electric pickup truck.
The powerful drivetrain and low center of gravity provide extraordinary traction control and torque- enabling acceleration from 0-60 mph in as little as 2.0 seconds and up to 500 miles of range.
However, the unveiling was not as successful as planned and the glass window broke down, on which Elon had a classic reply "at least it didn't go through".
At the end of Tesla's Cybertruck reveal event, the company unveiled a separate vehicle: an ATV designed to accompany the truck, capable of mounting into the bed and charging. It's unclear at this time if the ATV will be a production vehicle.
Though the features and safety concerns are looked very carefully, the design is not much liked by the internet as everyone started trolling Elon right after the launch.