The epidemic Coronavirus situation has turned the world up-side-down and with the World Health Organization finally declaring a pandemic, everyone has turned their eyes desperately on the development of vaccines or drugs that can stop the widespread.
So "How far are we from developing a vaccine for coronavirus"?
No wonder researches are carried out on a breakneck speed all around the world, and almost every nation has united to find a cure. There are almost 20 vaccines that are under development, out of which 1 has begun human trials earlier (skipping animal research). and four are being tested on animals. First of these was produced by Boston based biotech firm Moderna.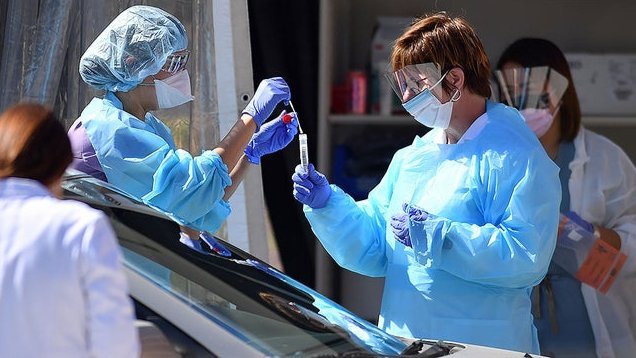 The unprecedented speed of developing the vaccines was made possible by Chinese medical researchers to sequence the genetic material of Sars-CoV-2, the virus that is responsible for causing Covid-19. The sequence for genetic material was shared by China in early January, which allowed research groups all around the world to grow the live virus and study about it attacks human cells and make a body sick.
When a vaccine will be ready for coronavirus?
Though many medical researchers all around the world are working day and night, sleeplessly on developing a vaccine for the novel coronavirus, the world will still need to be patient for the arrival of the vaccine.
"It would take at least a year for a vaccine to be available for the virus", said Dr. Mike Ryan, director of the WHO Health Emergencies Program, on BBC television, "Emphasizing the need for rigorous safety standards".
And even if a vaccine is developed this year, it doesn't mean a success and our lives getting back to normal in few weeks or maybe months, because the difficult job will still remain which is mass-producing the vaccine. This simply means, practically, one would not be ready at least until the middle of next year.
Taking into account earlier virus outbreaks like Ebola (EVD), which was first discovered in 1976, but the largest EVD outbreak was during 2013-2016 with confirmed 28,646 cases and 11,323 deaths as reported by WHO back then.
Now, the first vaccine to be approved in the United States was rVSV-ZEBOV in December 2019 for the Ebola (EVD). Although the Ebola stats are not close to comparable with Covid-19, since it was not that widely spread and had less than 10% of confirmed cases if compared to current cases of coronavirus. Also, the research was not this fast as researches going on for developing a vaccine for the coronavirus. Still, it took around 3 years for the Ebola vaccine. So, with everything that's been going around in the world right now, how much time we can consider before the cheering news of coronavirus vaccine found can be heard?
The answer broadly depends on a lot of major factors, one being how united humans stands together foremost. The time has arrived when each one of us has to stand together to support our family, community and every other individual.
More about Coronavirus
Corona Vaccine Development: Leading research groups and companies
With all the researches being going on to fight back coronavirus, some of the companies and research groups top the chart. With Moderna being at the top, and the first company to come up with a human testable vaccine.
Moderna
Moderna's disease research team along with the National Institutes of Health (NIH) developed gave the first dose of coronavirus vaccine called mRNA-1273 to a human subject infected by the coronavirus in their Phase 1 study on 16 March. It is expected to be tested on around 45 healthy adult volunteers over six weeks.
Migal
Israel based Galilee Research Institute – MIGAL is working on researches adapted from a vaccine that was earlier developed to prevent Bronchitis Virus (IBV) in poultry. Human testing for their vaccine is expected to begin within 8-10 weeks and safety approval within 90 days as told by the Institution. The institution is being funded by the government for the research and development of the vaccine.
CureVac
The European Commission has offered up to $80 million to CureVac, a German biopharmaceutical company which announced that it is leveraging its mRNA-based drug platform for the development of a vaccine against the novel coronavirus.
The company has plans to launch its clinical tests in early June 2020 and if successful, millions of vaccine doses could be produced in the company's existing facilities.
What you can do before a vaccine for coronavirus is made
At the moment being, maintaining Coronavirus Vaccine: How far we are from developing one? good hygiene is important to prevent the infection.
I think I'm infected / I have coronavirus symptoms
The first thing to do in this case is self-quarantine from others, even if there is no lockdown in your city/state/territory. Do not panic, seek medical help. For some people, it would be mild and can be treated at home with bed-rest, paracetamol and plenty of fluids intake. Some might require medical attention immediately.
Remember, its a pandemic situation, follow the guidelines being provided by the government, it's not about individual rights in the current situation, but about public health.