Scott Peterson was convicted in 2004 for the murder of his wife, Laci Peterson who was eight-months-pregnant at the time of her death. He was also convicted of second-degree murder of their unborn son, Connor. In 2005, he was sentenced to death.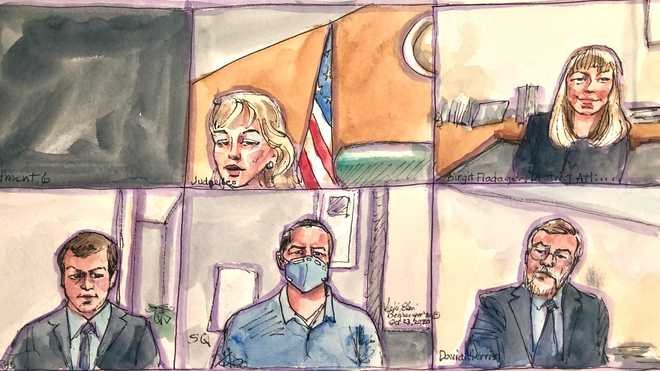 Scott Peterson 47, appeared remotely from San Quentin Prison wearing a buzz haircut and a mask to prevent the spread of coronavirus, appeared remotely in the Modesto courtroom.
California's prosecutors said they will seek the death penalty again, against Scott Peterson, even as a county judge considers throwing out his conviction for murdering his pregnant wife, Laci Peterson, and their unborn child.
"At this point in time, we are on track to retry the(death penalty) case" Stanislaus County Assistant District Attorney Dave Harris Told a Judge in Modesto.
Defense lawyer Pat Harris said this was the first he and his client had heard about the DA's decision to seek death again, and they'll need time to prepare.
"Well, it's been 15 long years and as you can imagine there are ups and downs," Harris told reporters outside court, "But overall he's very happy that the court has basically taken a look at the motions taken, a look at the evidence."
"He's innocent – an innocent man's been sitting in jail for 15 years. it's time to get him out, Pat Harris told reporters, explaining why he is taking the case again. Pat Harris was also on the original trial of Scott Peterson alongside celebrity attorney Mark Geragos.
Peterson had only one moment to speak, telling Judge Nancy Leo that he understood the proceedings and agreed to his next court date, Nov. 6.
Investigators said Peterson took the bodies from their Modesto home and dumped them from his fishing boat into Sand Francisco bay, where they surfaced months later.
The California Supreme Court earlier this year overturned Peterson's death sentence because potential jurors were improperly dismissed from the jury pool after saying they personally disagreed with the death penalty but would be willing to follow the law and impose it.
"Before the trial began, the trial court made a series of clear and significant errors in jury selection that, under the long-standing United States Supreme Court precedent, undermined Peterson's right to an impartial jury at the penalty phase, the state's high court ruled."
Scott Peterson's death sentence could not stand because potential jurors were improperly dismissed from the jury pool after saying they personally disagreed with the death penalty, but they would be willing to follow the law and impose it.
In the second ruling, it ordered a San Mateo judge to decide whether the conviction itself must be overturned because one of the jurors failed to disclose that she had sought a restraining order in 2020 against her boyfriend's ex-girlfriend.
The underlying conviction nonetheless stands, and the prosecutors are free to hunt the demise penalty once more.
"Peterson contends his trial was flawed for a number of causes, starting with the bizarre quantity of pretrial publicity that surrounded the case," based on the state excessive courtroom ruling. "We reject Peterson's declare that he acquired an unfair trial as to guilt and thus affirm his convictions for homicide."
Janey Peterson, Scott's sister-in-law, said the family is looking forward to his new day in court. "We don't have Justice for Laci with Scott on death row, because Scott is innocent, We still need Justice for Laci, Connor, and Scott."
Scott Peterson, now 47 had maintained that he went fishing the day his wife Laci disappeared. The remains of Laci and her unborn child washed up later along the shore of San Francisco Bay, not far from where Scott said he had going fishing.
After court, defense lawyer Harris told NBC Bay Area he'll move for the penalty phase to be contested outside of Stanislaus County, just like the original trial.
California has not executed anyone since 2006 because of legal challenges, and Democratic Gov. Gavin Newsom issued a moratorium on executions for as long as he is governor.
Read more from the website.