Prosecutors said a 14-year-old Florida teen has been charged as an adult with first-degree murder in the stabbing death of 13-year-old Tristyn Bailey.
Aiden Fucci, 14, was initially charged with second-degree murder in connection with Bailey's death, but the charge was upgraded to first-degree murder due to the nature of the crime, R.J. Larizza, state attorney for the 7th Judicial Circuit, announced on Thursday.
Fucci had been held at the Department of Juvenile Justice facility in Daytona Beach since his arrest on May 10, but the Sheriff's Office transported him to St. Johns County for his first appearance on Friday morning.
Bailey's body was discovered on May 9 in St. Johns County, Florida, after her family reported her missing earlier that day, according to the St. Johns County Sheriff's Office. Larizza said at a news conference on Thursday that she had 114 stab wounds. "To say it was horrific could arguably be made as an understatement," Larizza said of the at least 49 defensive wounds on her head, hands, and arms.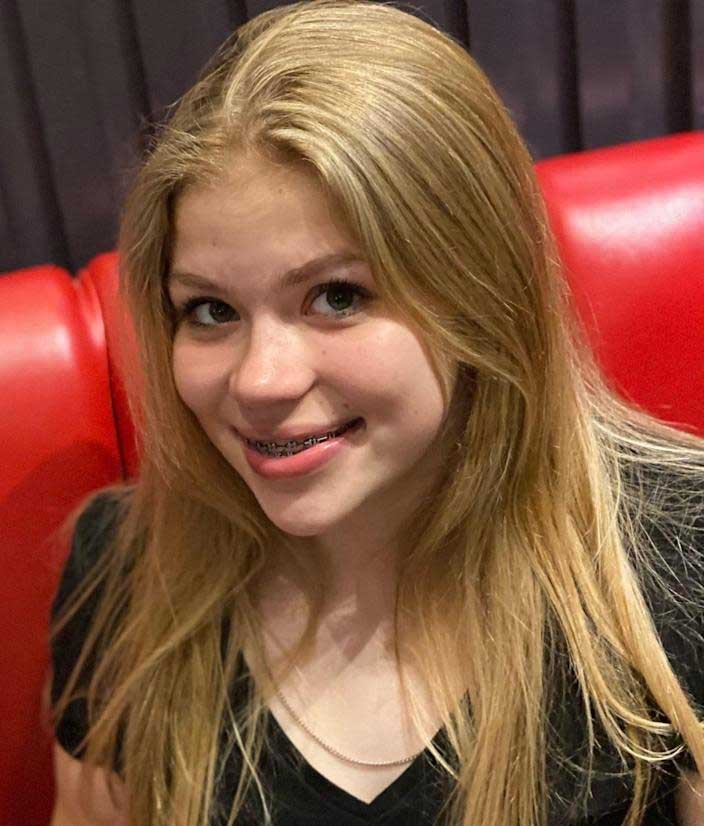 According to an arrest report, Bailey's body was discovered on Mother's Day near a retention pond in a cul-de-sac in the Durbin Crossing subdivision, less than a half-mile from Fucci's home. A neighbor out for a walk around 6 p.m. made the discovery, roughly eight hours after Bailey's family called 911 to report her missing.
"The bottom line is that premeditation could certainly be inferred from the sheer number of stab wounds that Tristyn Bailey had to endure," Larizza said.
According to the prosecutor, witnesses told authorities that the 14-year-old suspect told them he planned to kill someone by taking them into the woods and stabbing them.
Furthermore, Larizza stated that the tip of the knife believed to have been used in the murder was discovered in the victim's scalp, as well as the suspect's DNA on the victim's body. According to Larizza, a knife with a broken tip was discovered in a pond near Bailey's body.
"It gives me no pleasure to charge a 14-year-old with first-degree murder as an adult. But I can also tell you that the executive team and I reviewed all of the facts, all of the circumstances, and all of the applicable law, and it was not difficult to decide that he should be charged as an adult "According to Larizza.
Larizza refused to comment on Fucci's alleged motivation. Larizza stated that the teens were seen walking together on surveillance video the day of Bailey's disappearance, but there were no signs of trouble at the time.
Fucci, according to Larizza, told friends that he planned to kill someone by taking them into the woods and stabbing them.
"I hope parents take something away from this heinous and brutal murder," Larizza said. "And that is that you must be aware of what your children are doing and saying."
Attorney Gene Nichols, who is not involved in the case, stated that regardless of how heinous the crime, the Supreme Court has ruled that minors cannot face the death penalty.
"His mental health will be examined to determine whether he is competent to stand trial," he added. "I know that this child's mental health will be the focus. If he is deemed incompetent to stand trial, steps will be taken to place him in a facility until he is deemed competent to stand trial. As a result, that will be the first thing called into question."
Nichols stated that he was confident that this case would result in a murder conviction and a life sentence. "If he is competent and able to stand trial, you will be able to see a first-degree murder conviction," he said.
Earlier, Fucci was interviewed by detectives investigating Bailey's disappearance, according to the warrant affidavit from the St. Johns County Sheriff's Office.
According to the affidavit, Fucci's story to detectives changed several times, but he made several admissions. According to the report, Fucci admitted to walking down North Durbin Parkway and getting into an argument with Bailey, "during which he forcefully pushed the victim to the ground, causing her head to strike the ground."
According to the warrant, at 1:45 a.m., two people identified as Bailey and Fucci were seen walking east along Saddlestone Drive. According to the report, at 3:27 a.m., surveillance video captured Fucci walking west on Saddlestone Drive while carrying a pair of white Nike shoes.
According to the affidavit, a white pair of Nikes and a hooded sweatshirt found in Fucci's room contained blood stains that were later identified as Bailey's DNA.
According to the warrant, two "witnesses/friends" of Fucci stated that the recovered Buck brand folding knife looked identical to a knife that Fucci was known to carry.
Fucci appeared in court for the first time Friday morning on the upgraded charge of first-degree murder. He was ordered by a judge to be held without bail until his arraignment. Fucci is the lone suspect in Bailey's murder.